Events of July 2000
The Family Gathers and Char Breaks her Leg
Last Update: 26 January 2001
A family reunion of sorts was planned. All four Brondanis flew in from Minnesota and Beverly drove down from Pennsylvania. Charlie and their kids all had work or other engagements. Kathy lives nearby so that brought all three girls and some grandkids together here for the first time in a while. On 23 July all were here and some neighbors were invited over. We were getting ready for a cookout. Char was walking down the hill from the house to the cabin [now completed and in use — it is great!]. She was being careful as it had showered an hour earlier and the grass was wet. None-the-less, she slipped on the grass and, as her feet went out from under her, we surmise that her right toe hit a rock and stopped while the rest of her kept going. The result was a spiral fracture of the tibia and simple fracture of the fibula just above the ankle. Talk about raining on our picnic!

We did not know the exact injury as we awaited the rescue squad but it was obvious something was broken. Highland has a nice medical center but it is not staffed 24/7. There is a small hospital in Hot Springs, 25 miles down the valley, but this was likely to be beyond their capabilities, so it was off across the mountains, 55 miles to the Augusta Medical Center in Fishersville. After the ambulance left, I ate supper, gathered up some things and headed for Fishersville. I thought they would probably slap a cast on it and I'd bring her home.   I don't know much about broken legs...!   When I arrived she was in the ER waiting to go to X-Ray. [The X-ray at right lost a lot when scanned but the spiral fracture is clearly visible.] When the photos were ready and Dr. Godette came in, he said that he could put her in a cast from hip to toe for two months but he recommended going to surgery and putting a tube down through the tibia to hold everything in place. If this was elective surgery it is the sort of thing that would entail second and third opinions and a lot of thought and research. Under the circumstances, he suggested that we talk about it and he would be back in a couple of minutes.
We decided it was best to take the doctor's advice, so off she went to surgery. Several hours later she came out of the OR with a 315 mm long, 11 mm diameter titanium tube in her leg, held in place by three screws. There were bandages but no cast. Once she was in her own room and settled for the night I headed home. I had to work the next day but most of the family went over to visit. Tuesday afternoon, the 25TH, I went over to pick her up. While I was gone the girls set up the music room, which is right off the bathroom, as a recovery ward. We had a very careful drive home, arriving around 7 p.m. as I recall.
Recovery has been pretty steady once the initial trauma subsided. We had to adjust the pain medication a bit at first and again after things had settled down somewhat. The pain and general ache went on longer than I would have expected but, as I said before, I don't know much about broken legs. Fortunately Mother had a spare walker so Char used that to get around. Very little getting around at first! Four weeks after she came home she started physical therapy and began to walk some with just a cane. By November she was pretty much back to normal except that her ankle joint was somewhat stiff and her leg ached from time to time. At this writing in January 2001 she is still working on regaining strength and range of motion and she is experiencing some pain that is calling for a return to the doctor for evaluation.
---
This may be the rock that caused the break. It is at just the right place on the hill and the small vertical face appears capable of catching a toe that is sliding toward it. It was totally invisible until I pulled the grass away from it.
---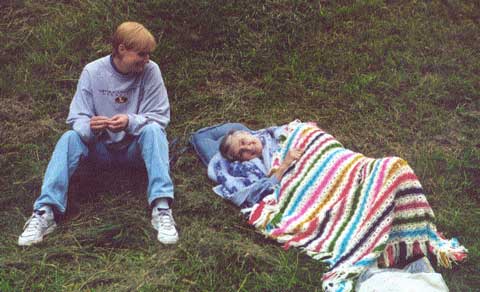 Beverly watches over Char as we await the rescue squad. Char seems much too happy to have a broken leg!!
---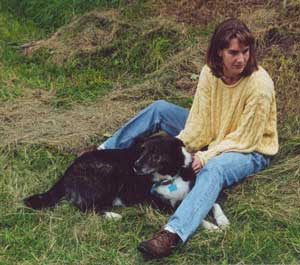 Kathy and Hank, also while awaiting the rescue squad.
---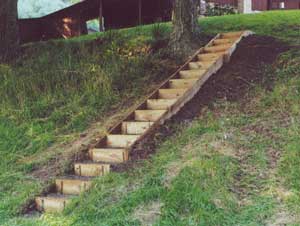 The "Too-Late Stairway." We had talked about stairs on the hill but it never seemed to rise to the top of the agenda. Suddenly it did! It still lacks the necessary handrail but that will be installed this spring when the ground thaws enough to dig post holes.
---
The whole Brondani family, standing on the hill about where Char slipped, just before leaving for home.

Altair and Stephanie, Kevin and Julia.









J R S
---