Ralph E. Kallam
25 July 1921 – 7 February 2001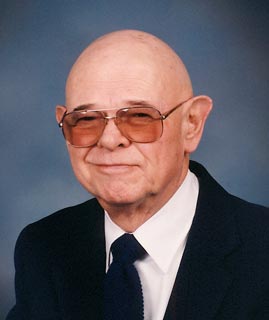 Ralph Edward Kallam, 79, died Wednesday 7 February 2001 at 0730 PST at his home in Anacortes, WA. He was born 25 July 1921 in Watsonville, CA, son of Frank and Esther (Niestetter) Kallam. His family moved to San Jose, CA, in 1928, where he attended school. He married Fern Radford in 1941.
Ralph served as a Yeoman in the US Navy in World War II. He was employed in the concrete industry for over forty years, managing a concrete plant for Borchers Bros. in San Jose for 25 years and later designing, overseeing construction, and operating the first on-site concrete plant for Bechtel Corp. at their project at Limerick, PA.
In 1970 he married Thelma Cale Lill. Ralph retired in 1984 and lived the last seventeen years in Anacortes and Oak Harbor, WA.
He has been an active member of the Veterans of Foreign Wars and the American Concrete Institute and in later years was a member of the Anacortes Community Theater and Whidbey Playhouse, where he did set construction and special props.
He was preceded in death by his parents and two brothers, Franklin and Daryl.
He is survived by his wife, Thelma; two sons, Steven and wife Phyllis of San Diego, CA, and Paul and wife Stephanie of San Jose, CA; two stepsons, David Lill of Hillsboro, OR, and Steven Lill of Forest Grove, OR; four grandchildren, Debbie Kallam-Wiener, Jeff Kallam, Jessica Kallam, and Dan Lill; a great-granddaughter, Megan Wiener, a sister, LaVerne Stone of Modesto, CA; four nieces and two nephews.
On 24 February 2001 a private internment will be followed by a Memorial Service at 2:00 p.m. at Anacortes United Methodist Church. In lieu of flowers, please send donations to the American Diabetes Association or the American Cancer Society.
---
That is the formal obituary. I think it would be appropriate to honor Ralph's memory with the addition of some stories or anecdotes about him, perhaps some less-formal photos, whatever. If any friend or relative would like to submit something I will be most pleased to post it.
J R S
Last Update: 8 February 2001