BOARD of SUPERVISORS Meeting

10 January 2005
Zoning amendment denied, public hearing postponed
The Board of Supervisors held a special meeting to vote on the height amendment to the zoning ordinance that would permit the construction of 400-foot wind turbines. Despite the fact that there would be no opportunity for public comment, the meeting room was standing room only with late-comers barely able to get in the door.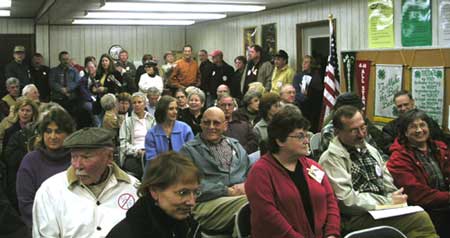 Part of the crowd prior to the start of the meeting.
Mr. McBride is the bald gentleman in the center of the picture.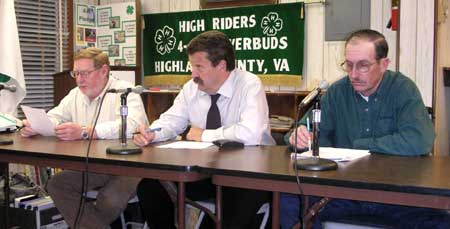 Supervisors Jerry Rexrode, Robin Sullenberger, and Lee Blagg during discussions prior to voting.
Roberta Lambert read the McBride proposal and the alternative language. Robin started the discussion by stating that he was not overly enamored with either option and felt we should take more time and study similar ordinances in other jurisdictions, particularly Rockingham County. Counsel Melissa Dowd advised that the Board must first act on the matters on the table and may then discuss any other proposals. Robin moved to deny both amendments, Lee seconded, and the motion passed. A second motion was passed, postponing the public hearing on a conditional use permit that had been set for 26 January, and a third motion directing Melissa to draw up another amendment for consideration. Once they have something ready it will be sent to the Planning Commission and there will be another public hearing. Stay tuned.
John R. Sweet, Mustoe, VA
---