State Corporation Commission of Virginia:


---

Hearings relating to Wind Energy in Highland County
13-14 March 2006
Last Update: 15 March 2006
Highland New Wind Development — permit appliction with the State Corporation Commission, case no PUE-2005-00101.

Please Note — The deadline for public comment has been extended. It is not too late to write!
Information and tips for sending comments to the SCC.
SCC hearings set for Monterey in March
Highland New Wind Development filed its permit appliction with the SCC on 8 November 2005. HNWD attorney John Flora requested approval by 1 March, stating that the project "has been fully vetted" at hearings in Highland, hence it should receive a speedy review by the SCC with no public hearing. The SCC declined to act in haste and has set four public hearings to be held in Monterey in March. There will be two sessions on Monday, 13 March, at 1:30 and 6:30 p.m. and two more on Tuesday, 14 March, at 4:00 and 7:00 p.m., all to be held in the Highland Elementary School gymnasium. The Recorder published a detailed report on the issues to be covered at these hearings in its 6 January edition, which is available on line at:     SCC sets wind plan hearings.
Cover letter from attorney John Flora to the SCC. [202 kb]     HNWD application to the SCC. [136 kb]     These and other documents are available on the SCC web site, www.scc.virginia.gov, but there are some issues with using this site. (A security firewall, which blocks sites running certain types of software, may prevent access to the document links.)
SCC Hearings — Day One, 13 March 2006
The first day of hearings on the HNWD project is over. Testimony began at 1:30 p.m. and lasted until nearly 10 p.m. with a break for supper. Everyone who had signed up got to speak, three in favor of the project and 24 opposed. Those opposed raised many of the same issues over and over — the impacts on birds and bats, the view shed, tourism, and tax revenues. There were also some new and interesting ideas.
Andrew Luther, Hightown, the second speaker, noted the lack of any sort of business plan or risk analysis to determine the viability of the proposal, but he concentrated on describing a new solar technology. Rather than photovoltaic cells or flat-panel heat exchangers, such as those used for residential water heating, it involves a dish with movable mirrors that focus the sun's rays on a point and use the concentrated energy to spin a generator. For more information check out the Stirling Energy web site. His point is that this technology could make wind turbines obsolete within a few years.
Rick Lambert, well known Highland County cave explorer, gave an elaborately detailed report on the status of bats in this region. The HNWD site is within easy flying distance of important habitat for the endangered Virginia big-eared bat and the Indiana myotis as well as other, less threatened species.
Rick Webb discussed the bird/bat issues, the relatively small contribution to the overall power picture that wind in Virginia can offer, and the air-quality improvements being made at existing fossil-fuel plants. He was then questioned for perhaps a half hour by Mitch King of Old Mill Power, a respondent in the case. King's aggressive tactics seem to be aimed more at badgering and confusing the witness than at clarifying testimony.
In my own statement I primarily addressed shortcomings in the HNWD application. The complete text is available so I will let it speak for itself. [40 kb]
Jacob Hevener was the only Highland resident to speak in favor of the project. He basically feels there is "nothing wrong with them" [turbines] and we need the tax revenue.
Diana Dascalu, representing the Chesapeake Climate Action Network, talked about global warming, the problems with coal mining, and our "addiction" to fossil fuels. These are all important problems but the CCAN people fail to understand that wind turbines in the eastern mountains can make, at best, a minuscule contribution toward remediation of them, and that comes with a very high cost. Before paying that cost we need to wring much more out of conservation techniques, reform coal mining (including totally banning mountaintop removal), advance solar photovoltaics and the solar dish technology described by Andrew Luther (above), and continue progress in reducing emissions from existing fossil-fuel plants.
Jonathan Miles of James Madison University and the Virginia Wind Energy Collaborative, a wind-advocacy group at JMU, discussed Senator Frank Wagner's Virginia Energy Plan and several current news articles on climate change and energy deregulation. He spent quite a bit of time dissecting an editorial in last week's Recorder that offended him. He found a positive benefit/cost analysis of the HNWD proposal but admitted under questioning that he knew nothing about how utility properties are assessed for taxation and that the VWEC site analysis does not take wildlife issues into account.
SCC Hearings — Day Two, 14 March 2006
The SCC hearings on the HNWD project are now over. The first news is that the hearing examiner has extended the deadline for comments until after a report from the Department of Environmental Quality has been received. That date is not known but it is likely to be in May if not later.
This session lasted from 4 p.m. until just after 11 p.m. with a break for supper. Only a couple of people who had signed up to speak left before their turn came up. Three people spoke in favor and 36 spoke against the project. That brings the two-day count to 6 to 60, so 91% of those speaking opposed the project, about the same as for other public hearings. Let's hope the hearing examiner reacts differently to this than our own supervisors did. Only two of the six in favor are Highland County residents and two others are non-resident landowners.
Nancy Witschey is sworn in to testify.
All four photos by Anne Adams.

The McBride family, Tal, Lola, and Henry, consult with their attorney, John Flora (right) during a break in the hearings.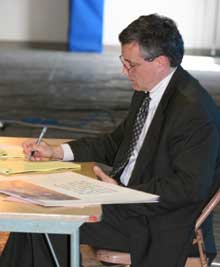 Hearing Examiner Alexander Skirpan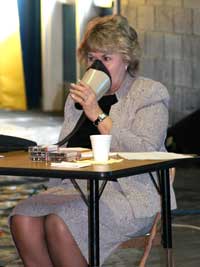 The court reporter repeated everything
        that was said for the hearing record.
The first to speak in favor was Stuart Hall, a Bath County supervisor who owns land near Williamsville in Highland. He wants real estate taxes to be reduced. The second was Roscoe Moyers of Durbin, WV, who owns land on Bear Mountain between the McBride property and Bear Mountain Retreat. He wants to install wind turbines there and also wants lower taxes. The final pro speaker was David Smith of McDowell, who seems to think the oppostion to wind turbines has been stirred up by The Recorder and that there is a silent majority in Highland that thinks the turbines are just fine. He thinks wind energy will reduce oil imports and that clearcutting ridge tops is a good practice since it will create more edge habitat for wildlife. Wow!!
One of the new things to come out, at least new as to the quantitative detail, is the requests to the Chamber of Commerce for "relocation packages" from folks interested in moving to Highland. According to Carolyn Pohowsky and Lorraine White, the chamber mailed out just a few in 2001, 150 in 2002, 261 in 2003, and 339 in 2004. Since the wind turbine issue opened up in late 2004, the chamber has mailed only 50 in 2005 and 16 so far this year. This strongly supports anecdotal reports from realtors and others that interest in buying property or building here has fallen off substantially. In yesterday's hearing, Brian Richardson reported that real estate transactions for a recent five-month period dropped by over 50% from the same five months a year earlier.
Ken Schaal of Commonwealth Solar pointed out that the production tax credit and accelerated depreciation cause decisions to be dollar driven rather than science and technology driven. Global climate change, greenhouse gases, air pollution, and the evils of coal mining, which are the main causes CCAN [see day one report] is taking on, are all serious concerns. By accepting wind energy as a solution they have embraced a "feel good" position and are ignoring the real solutions, which are conservation and energy efficiency, at least on an interim basis. In effect, CCAN is jeopardizing its own goals by advocating a sexy solution that is not up to the job. They can do a lot of damage while attempting to do good. We must be prepared to get our views out to the public more clearly and more often.
---
For more detailed coverage of these hearings please refer to the report in The Recorder.
---