PHOTO GALLERY 1
Existing and Proposed Wind Power Sites in PA and WV
plus one from Oklahoma
Last Update: 18 November 2005
. . . and one from California —


This is from the Country Guardian web site in the UK. The photo is captioned "Do you know any hills that deserve this?" but they do not say where these hills are located. Since posting this I have been told by William R. Jones of GE that this scene is at Tehachapi, CA, where they have just over 4000 wind turbines.


Wind turbines under construction on Allegheny Mountain east of Meyersdale, PA, further illustrating the amount of land disturbance during construction.   Photo provided by Friends of Appalachian Highlands and annotated by Dan Boone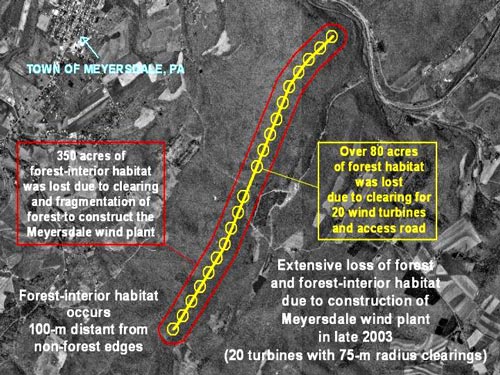 Aerial photo of the Meyersdale area with the project area drawn in.
Orthophoto from USGS annotated by Dan Boone

Fragmentation of forest land is a serious problem. Wildlife species that inhabit mature forest interiors will generally not occupy the edge habitat within 100 meters of a clearing. This is one problem that does not apply to the McBride project as his turbines, if erected, will all be on cleared pasture land.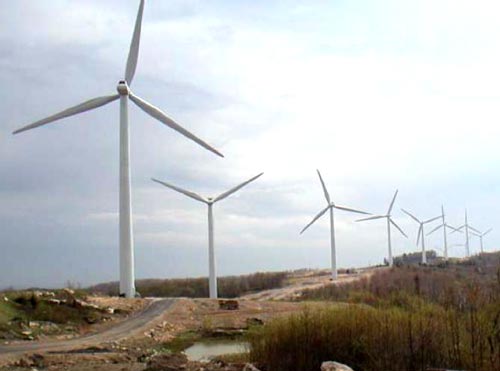 Mountaineer Wind Energy Center, Backbone Mountain in Tucker Co., WV. This photo illustrates the amount of land disturbance that is involved in constructing these machines.   Photo taken from the cover of a report on the Mountaineer facility —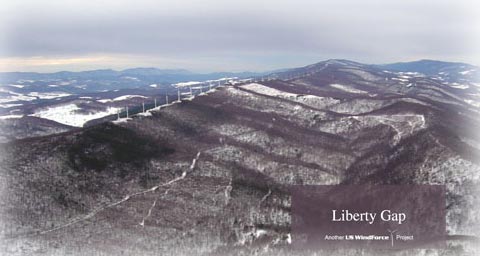 This is US Wind Force's depiction of their Liberty Gap project planned for Jack Mountain in Pendleton County, WV. This view is looking south toward Highland County. Turbines will extend all the way to the state line and, if Highland gives approval, they could be extended further south. I believe that the peak in the far distance at upper right is Sounding Knob. The first 100 MW phase was scheduled for completion by January 2006 but it has hit a snag so that is now unlikely.
Photo from the US Wind Force web site.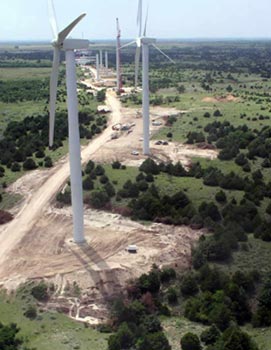 This is another example of the amount of grading done to install turbines in flat country. Think about a mountain-top installation!   Woodward, OK — Photo courtesy of Michael Stubbs.
---