PHOTO GALLERY 2
Existing Wind Power Sites in PA and WV
Field Trip on 14 October 2002
Last Update: 24 October 2004
| | |
| --- | --- |
| When the issue of wind power first arose in Highland County, Char and I decided to take a trip to see existing sites in an attempt to evaluate the pros and cons of these machines. We stopped first at Garrett, PA, where eight turbines are scattered over a gently rolling meadow that was once a strip mine. The photo at right shows the information sign on the door of turbine #5. We then went to Somerset, where six turbines are in a similar setting, and Laurel Hill, with ten turbines in a line on a ridge top. On the way home we stopped at Backbone Mountain in Tucker County, WV, to see a much larger project under construction. The sun was already setting there so we could not explore very much. | |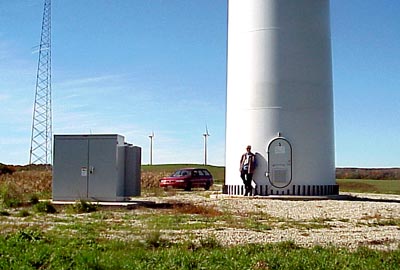 Transformer (left) and the base of Garrett turbine #5.   All photos on this page by John Sweet.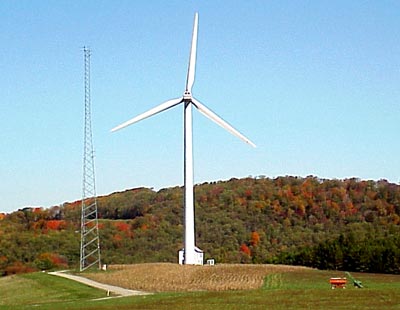 Garrett turbine #5 and what is probably a cell tower at left. Note the two-story house behind the base of the tower.


Garrett turbines and an abandoned dragline shovel left from strip-mining days. It is not obvious but the shovel is quite a bit closer than the turbine so it looks larger than it really is.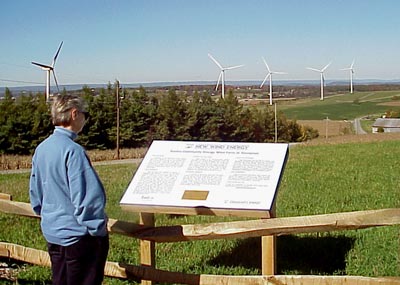 Char Sweet reading the informational sign at the Somerset project. There is another turbine immediately to the right of the sign. This is the only site we visited that provided any sort of information for the public. A road passes through the site, separating this turbine from the other five shown in the photo.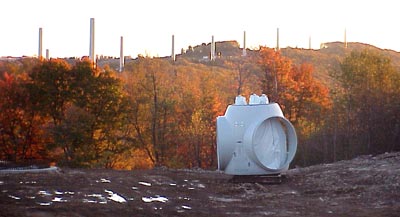 Backbone Mountain in WV showing half-built towers along the ridge and a hub, which will carry the three blades, in the foreground.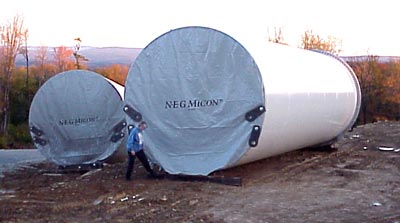 Tower sections waiting to be erected. Char at about 5'6" offers some scale.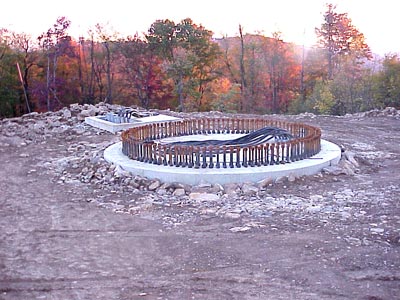 The concrete foundation ready to receive the tower sections shown above.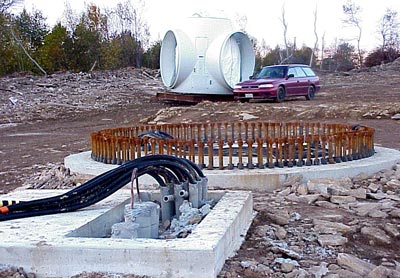 The transformer foundation, tower foundation, and a hub with our car for scale.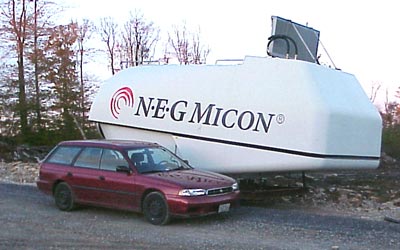 A nacelle, which houses the generator at the top of the tower, and our car.
---