PHOTO GALLERY 3
Photo Simulation of Highland New Wind Development's
Proposed Wind Power Site in Highland County, VA
Last Update: 29 December 2004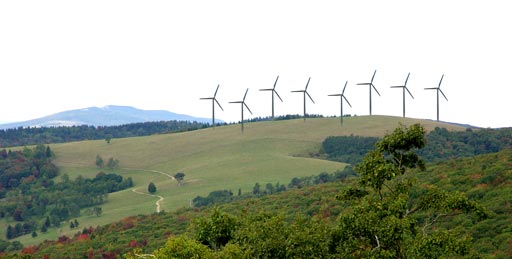 View of Red Oak Knob from the lodge at Bear Mountain Retreat with eight turbines (approximately 400 feet tall) added.   Photo and editing by John Sweet   This is a photosimulation, just a guess at how the project might look if built. Mr. McBride took me to task for showing eight turbines, implying that fewer are planned. No site plan showing specific turbine locations has been made public to my knowledge. I chose eight based on statements made by McBride's attorney, John Flora, and reported in The Recorder on 7 May 2004, as follows: "The plant would have 17-19 two-megawatt turbines or 15-16, 2.25 MW turbines . . . . The map showed the turbines in two groupings — one in a line on Tamarack Ridge, and another in a wishbone shape on Red Oak Knob. . . ."   I do not have a copy of this map and do not know how the 'wishbone' is laid out so I just set them up in a straight line to give an idea of how it could look. Neither my simulation nor Rick Webb's, below, makes any pretense at being an accurate depiction of a real site plan. Mr. McBride could quash this sort of speculation by releasing his site plan. I will happily post it here if he does so.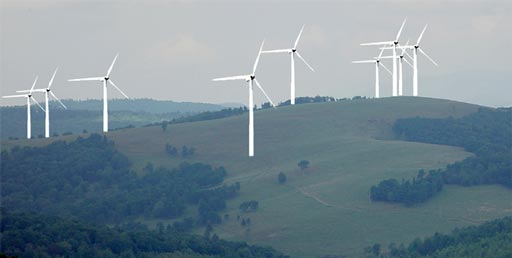 This is another simulation taken from somewhat closer.
Photo and editing by Rick Webb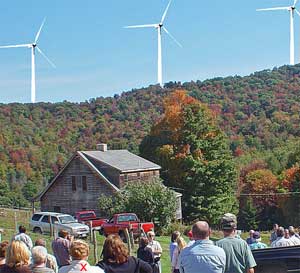 This is a simulation of the proposed turbines on Tamarack Ridge as seen from Pen and Leslie Goodall's home. The photo was taken during a field trip on 21 September 2004. Leslie Goodall asked County Supervisor Robin Sullenberger, "Will this impact my property?"   "I think it might," he replied.   She then asked Supervisor Jerry Rexrode [left foreground, red x], "Can you say they will impact my life?"   "They can if you let them," he replied.   (Conversation as reported in The Recorder, 24 September 2004. Draw your own conclusion as to whether you would be bothered by turbines looming over you!   Photo and editing by Rick Webb.
---