Char's Page
Updated: 18 December 2015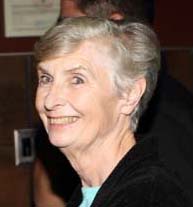 It is with great sadness that I must say that my good and dear Charolette died on 19 December 2014 after an extended battle with cancer.
Our 2014 Christmas Letter (PDF format) is devoted largely to her last year. Her obituary from our local paper, The Recorder, provides a snapshot of her life. In case the link to The Recorder fails, here is her obit as I wrote it, which differs only slightly from the published version.
There was a Memorial Service and Celebration of Life for Char on 25 April 2015, not here at our farm in Mustoe as advertised, but at the Bolar Rutitan Club seven miles south, due to inclement weather. There was music and food and conversation and camaraderie. We had some historic photos posted and a display of some of her craft projects but not nearly as many as we had in the cabin. Over 100 friends and family from all over the country attended, some from as far away as Orcas Island, Washington. Family and some friends returned to the cabin after the main event and partying continued into the night. It was a fun and fitting sendoff for my lovely lady.
What follows is the story of Char's life as I am able to compile it, hopefully with some help from her sisters and daughters. This will be an ongoing project. I will add new material as it comes to hand and time premits.
---
I have scanned Char's Recipe Book, which is available via this link as a 28 MB .pdf file, 178 pages. There is an index at the back. The individual pages are not numbered but when the file is opened in Adobe Reader or Acrobat, one can navigate to any desired page. A few pages that were typed on a computer have searchable text (ctrl-F) but most of the book consists of scanned images of handwritten pages. These are searchable only via the index.
---
Ancestors
Char's paternal grandparents are Clarence Alonzo Cale (1879-1953) and Eva Mae Nix Cale (1884-1947). They appear in several photos later in this article and in a group of photos taken on the Cale farm in Arkansas in 1933, which include descriptions of the photos in Clarence's own hand.
Char's maternal grandparents are Robert Denton Julian (1883-1946) and Bessie Alice Alexander Julian (1885-1965). Bessie, also known as Grady, had nine brothers and sisters who lived to adulthood. Her three brothers are pictured just below. Later in life (circa 1940) Grady married Munroe Winfrey (dates unknown). While she was growing up, Char was a frequent visitor to Grady and Roe's farm in Supply, OK.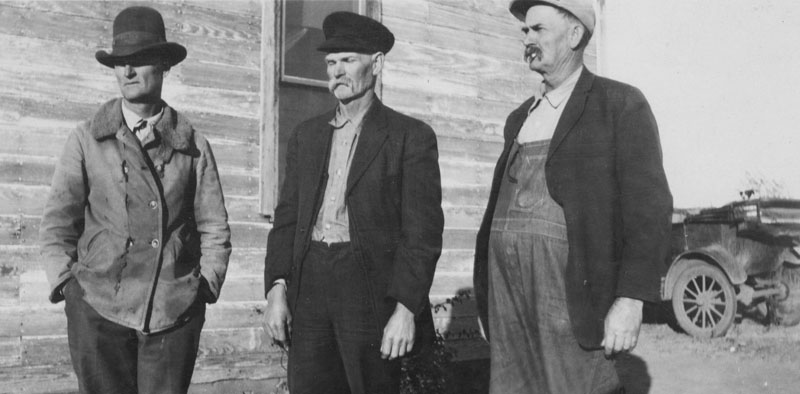 Above, the Alexander brothers of Supply, OK, circa 1920. Left to right, Alvin Robert, Amos Ulery and Joseph Asa.
These are Char's great uncles Bob, Ull and Ace. They look like a trio one would not want to mess with!

The Alexander family of Supply, OK, engaged in some sort of harvesting work, above and below, in the early 1900s.
It is not clear exactly what they are doing.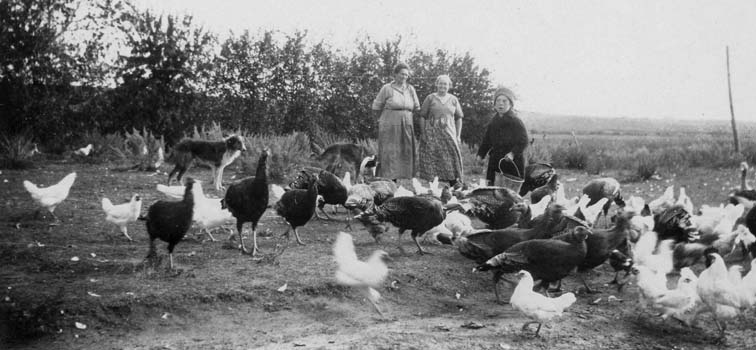 Above, another view of the Alexander farm at Supply, OK. Char's aunt Della is at left with a flock of turkeys. 1920s.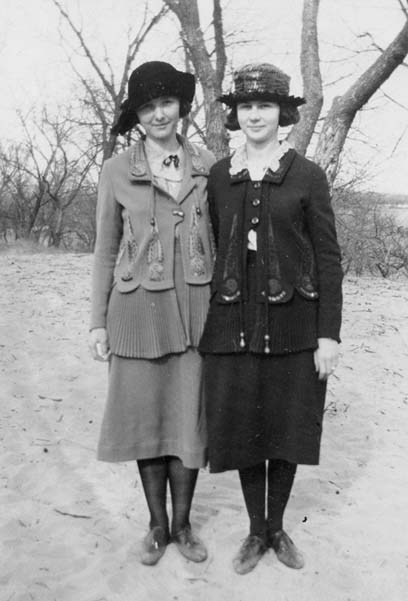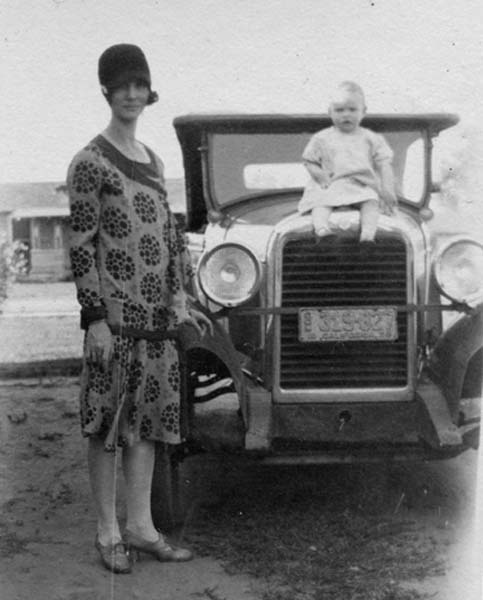 Bernice Cale, at right in left photo, with one of her best friends, Berta Lee Garrison, 1920s. Bernice with baby Thelma in California, 1924.
Char and her sisters are related to John Adams and John Quincy Adams, second and sixth presidents of the United States. The common ancestor, as shown in the Adams family tree, is Henry Adams, 1583-1646, of Braintree, MA. Char's mother's name is highlighted right in the middle of this diagram. President John Adams is the greatgrandson of Henry's son, Joseph. Bernice Julian is the sixth-greatgranddaughter of Henry's son, John. I believe that makes Char a third cousin, six times removed, of President John Adams.
Early Life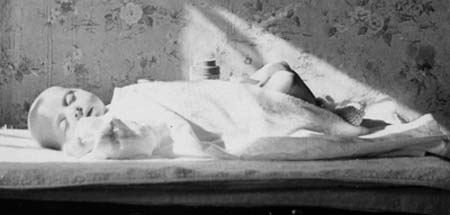 Char was born Dona Charolette Cale on 16 December 1935 in St. Francis, KS, to Francis Allen Cale and Mildred Bernice Julian Cale. Char had two older sisters, Thelma Bernice, born 11 May 1923, and Wanda June, born 8 May 1927. The family lived on a farm near Haigler, NE, just across the state line from St. Francis.
Thelma described the arrival of her new sister this way: "The day before, Dad had taken Mother to the hospital in St. Francis, Kansas, the nearest one to where we lived on a farm about 8 miles from Haigler, Nebraska. June (8) and I (12) stayed at the farm. Dad came home late in the afternoon to tell us we had a new Baby Sister. Names had been decided before she arrived, one for a boy and one for a girl. So she was Dona Charolette; only one 'n' in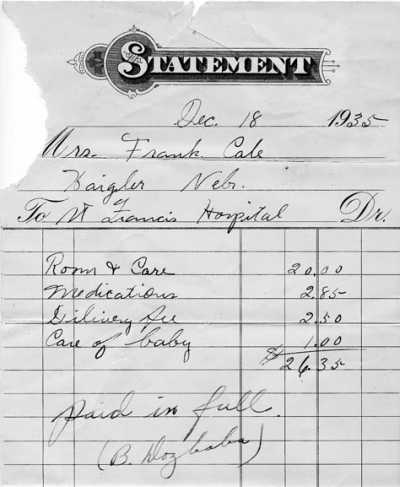 Dona because Mother thought the name was too long. However, Mother didn't like to spell her second name Charlotte, as she thought it sounded Spanish. So that explains the unusual spelling. Char was brought home 5 days later, and Dad and June and I took care of 'the baby' for her first two weeks, as Mother didn't get up until New Years." At right is the hospital bill for Char's delivery – $26.35 – imagine what that would cost today!
The photo above shows the Cale family at Haigler in August 1937, just before returning to Wichita. Left to right, Frank holding Charolette, Thelma, Chester (Frank's brother) and June.
Thelma recalls that Char "always figured out how to do whatever she started. The Fourth of July that she was 1½ years old [1937], she was given a wooden whistle, painted red and yellow. We all tried to teach her to blow it but, instead of exhaling, she would inhale, so no sound. Quite soon she discovered if she put the other end in her mouth and inhaled she got a great noise. I think there were times the folks hoped it would get lost!"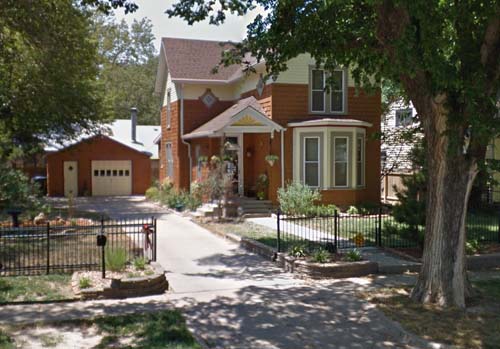 A couple of years after returning to Wichita from Nebraska, Frank and Bernice bought the house at 1805 N. Jeanette Ave. where they lived until moving to Great Bend, KS, in the 1960s. [The photo at right shows the house as it looked in July 2011.] Thelma remembers, "Our next-door neighbors were the Workmans and they had two little girls, one just Char's age. In a year or so Char and Arliene played together. There was a wire fence between our houses and Dad and Mr. Workman made the girls sandboxes, one on our side and one on their side of the fence. The girls could play together and still be in their own yards. The windows in our kitchen went down close to the floor, so Arliene could see us there and we could hear a little voice call, 'Can Dona come pray with me?' So June and I would call to Mom, 'Can Dona go pray with Arliene?'" Arliene was Char's Maid of Honor when she married in 1957.
Thelma continues, "Char took dance lessons and I envied her. I always wanted to take piano lessons and dance lessons but it was not possible when I was that age [in Haigler] and Dad said he did not want to listen to someone practice the scales on a piano. He mellowed a lot and, later, hardly complained at all at the screeches Char made on her clarinet when she was learning."
Frank Cale was a contractor and builder in Wichita, KS. He had very little work when the Great Depression hit, so he traded his house in Wichita for a farm in Haigler, Nebraska, and moved his family there in the Spring of 1932, figuring that he would at least be able to feed them. In August 1937, after the depression eased, they moved back to Wichita and he resumed his career as a builder. He was a long-time employee of Dondlinger & Sons Construction Company. He was Carpentry Foreman at first and became a Project Superintendent for the company around 1951, supervising the construction of large commercial buildings all over Kansas. Thelma again remembers, "Dad had only a sixth-grade education as he became ill and missed a year and never went back to school but he had a good mind and was very good with anything mathematical. I could never remember how to work square roots and every time it came up I would go to Dad and he would tell me again!" It is indeed a testiment to Frank's ability that he attained such responsible positions in his career with so little formal education.
I have corresponded with Tom Dondlinger, now the third generation with the company, in hopes of learning what projects Frank supervised for them. Sadly, company records do not go back that far and there is no one living who remembers. From fragments that I recall hearing while in Great Bend in 1989, I think it is likely that he worked on a ten-story office building for Union National Bank and possibly the new corporate headquarters for Kansas Gas & Electric Corp. in Wichita.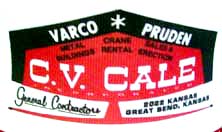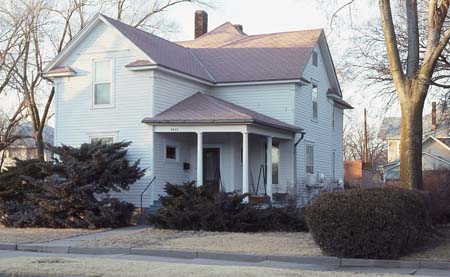 Sometime in the 1960s, Frank's younger brother, Chester, had bought into a construction company in Great Bend and wanted Frank to come work with him and prepare bids for upcoming projects. Thelma recalls, "Dad was ready to do something easier by then so he went to work with Chet. Mom did not want to move to Great Bend so she stayed in Wichita 'to get the house ready to sell,' which took her about four years. Weekends he would come back to Wichita or occasionally Mom would go to Great Bend. Eventually she sold the house, moved to Great Bend and bought 2812 Forest Avenue. It was a large house, which two people did not need and older than Frank would have liked to buy, but she liked it." Frank died in 1976 and Bernice managed to quite totally fill the house up by the time of her death in January 1989. The photo at right shows the house at that time.
Char, circa 1940, three views.

Char at Grady's farm, Supply, OK, 1937.

Center and right, Char circa 1940, location uncertain, probably in Wichita.
---
School Years
Char with her mother, Bernice, and sister, Thelma, holding a birthday cake, circa 1943. Whose birthday? There are too many candles for Char and not enough for June or Thelma.



Eva Mae (Grandma) Cale, Thelma Lill, Bernice, Charolette in front holding David Lill, Frank, Charles Lill, Clarence (Grandpa) Cale, Summer 1945.




Cale family group, 1945. Frank, Bernice and Charolette at left, Grandma and Grandpa Cale (Eva Mae & Clarence) at right, holding David Lill. Others: Back row between Frank and Grandma Cale – Bill Conner, Myrtle Cale Kendall, unknown-mostly obscured. Second row between Bernice and David – Bonnie Kendall, Maxine Cale Conner, Thelma Cale Lill, June Cale. Front row, right of Char – Bert Kendall, Billy Ray Kendall, Bobby and Billy Conner.
Folks do not line up precisely; you have to use your imagination.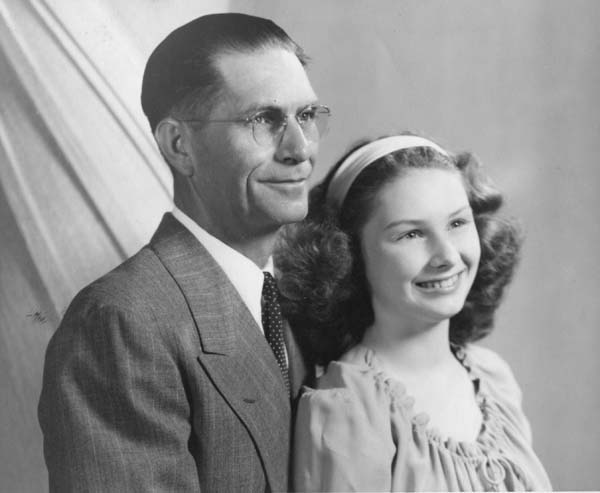 Char with her father, Frank, circa 1948. Portrait by Ray Studio, Wichita.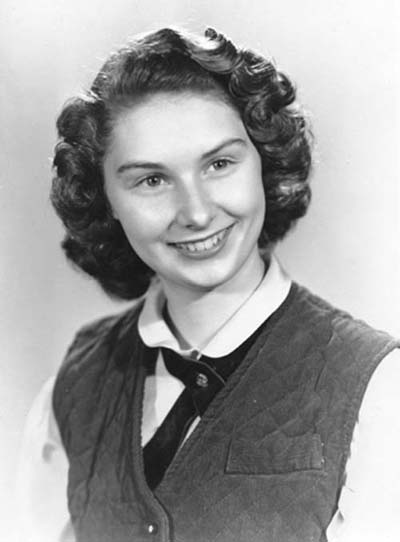 Above, Char's senior picture at North High.


Char attended Woodland Elementary School, John Marshall Intermediate School and Wichita High School North, graduating in May 1953 with a diploma in English and Speech. She then attended the University of Wichita, now Wichita State University, graduating in May 1958 with a BA in Speech. While in college she worked for two years as Continuity Director for radio station KMUW and two more years as secretary to a patent attorney.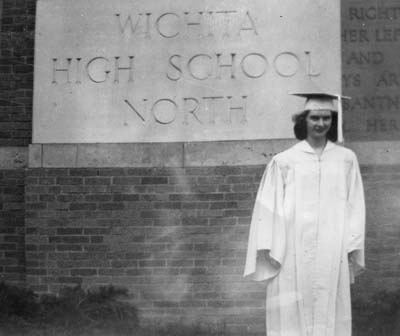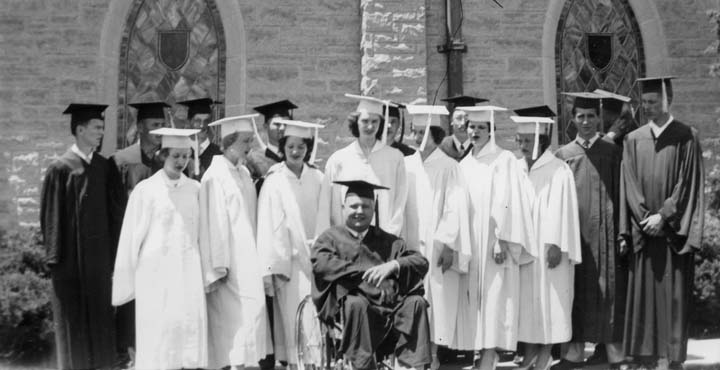 Char is in the center of this group, directly behind the man in the wheelchair.
While still in college, Char married Richard Bevve Gregg on 22 August 1957. After graduation they moved to Pittsburgh, PA, where Dick attended graduate school and received his PhD in Speech Comunication from the University of Pittsburgh. Their first two children were born in Pittsburgh, Beverly Dona on 19 November 1958 and Stephanie Lynne on 1 November 1960.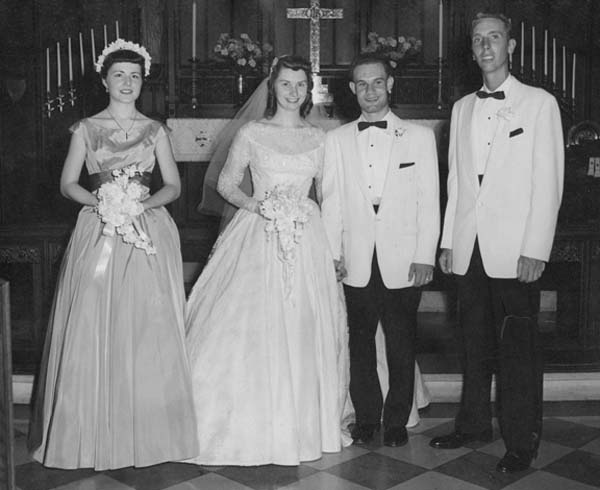 Char's Maid of Honor is Arliene Workman, her childhood best friend and next-door neighbor.
Dick's Best Man is Curtis Lagree.
State College and Linden Hall
After Dick graduated from Pitt, he took a position with the Department of Speech at Penn State University. The family lived in Park Forest Village, a suburban development a couple of miles northwest of State College, PA. They first lived on Hunter Lane (later renamed Laurel Lane), then moved to a larger house at 500 Hillside Avenue. Their third child, Kathlyn Erica, was born on 3 April 1966. The older children attended Park Forest Elementary School, where Char was President of the PTA in 1970-71.
In July 1972, right after the huge floods of Hurricane Agnes, the Greggs bought a 10.5 acre farmette on Rock Hill Road in Linden Hall, a rural village five miles east of State College. They had a barn and pastures where they could keep several horses and have room to ride. Stephanie remembers "putting in fencing all that first summer and fall."
Char joined the Linden Hall Garden Club in 1972 and was President in 1976 and on the Board of Directors for ten years. She was a member of the Boalsburg Memorial Day Committee and its Chairman for eight years. She was President, Treasurer, and a director of the Boalsburg Village Conservancy for various terms between 1976 and 1982.
In addition to all of these civic activities and raising three children, Char worked at the Renascense Gallery, a craft cooperative in State College, 1976-78, producing and selling hand-woven items. She also acted as bookkeeper for the cooperative and as a display designer for the shop, in rotation with other members of the group. She left Renascence in 1978 to take a position with the Psychological Clinic at Penn State, first as receptionist and later as Office Manager, a position which she held until moving to Virginia at the end of June, 1988.
The children all graduated from State College High School and Penn State University, Beverly in 1980, Stephanie in 1982 and Kathy in 1988. Stephanie went on to get a Masters degree from Michigan State University.
I have lots more pix of the early years to look at and decide which to use. I have no pix at all from Pittsburgh, then quite a lot from the Linden Hall era that have not been sorted or scanned.
The Sweet Era Begins
In about 1986 Char moved from the farm in Linden Hall to an apartment in Toftrees, a suburb of State College, shared with two other women. Then she moved to a basement apartment in College Heights to be closer to her work at the University and, perhaps, for other reasons. I don't know exactly how it came about but she got involved with the Penn State Outing Club, possibly thru P. J. O'Connell, who was a family friend and active in the Club. I think she was somewhat at loose ends after leaving the farm and was looking for something interesting to do.
I joined the Outing Club in 1963 and was active in the Canoe Division for 25 years. I was President for a year or two and then Faculty Adviser from the mid-60s until I left State College in 1988. I ran rivers and coached new members but my main interest was in slalom racing. The club sponsored two races and Char helped with the timing. That's how I met her, probably at the Bellefonte Slalom in the fall of 1986 or at meetings leading up to it.
The Loyalsock Slalom was held in April each year at Worlds End State Park in Sullivan County, PA. The club typically rented a group of State Park cabins and had a big social event along with organizing the race and participating in it. The 1987 event started typically enough but quickly deviated from normality. It rained. Canoeists like rain because it puts water in the rivers but this time it rained and rained and rained. The creek rose and rose and rose. With the creek in flood the race had to be canceled. The water either overtopped the bridge that provided access to the cabins or came very close to doing so; I can't remember with certainty. Anyway, with no race to run, the party continued. We all circulated among the cabins, exchanging river stories and consuming bererages technically not allowed in the Park. Somehow Char wound up in my cabin and we talked for hours.
After returning to State College, Char and I started seeing each other, eating supper together, etc. "Dating" seems like an odd term for fifty-year-olds but I guess that's what it was. We started paddling some rivers in my two-person canoe. Char had started to learn to paddle a kayak but she could go on much more interesting water in the bow of my canoe. We ran the Little Juniata, a class 1 (novice) stream on 5 May and the Ohiopyle section of the Youghiogheny River (class 3+) on 28 June 1987. There were a couple more trips in between, possibly to the Lehigh River, but I have no notes and the memory is faulty. At around this time we decided we were serious and Char left her little apartment and moved into my house on Buckhout Street.
Sometime that summer the Stanley clan came to State College for a visit and I took them to a pleasant spot on the Black Moshannon Creek where there is a pool and beach and some big rocks. We had a picnic and the kids played in the water.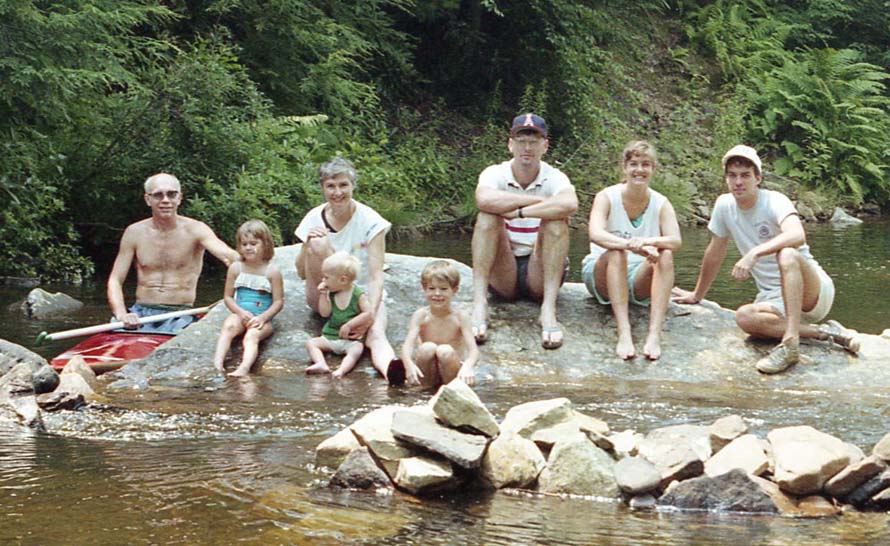 Left to right, me in my canoe, Lynne Stanley, Char with Curt Stanley, Doug and Charlie Stanley, Kathy Gregg and Ron Engleman. Photo by Beverly Stanley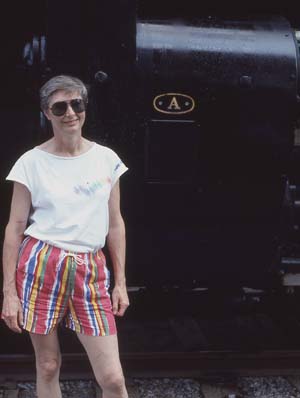 On 25 July a Norfolk & Western class A locomotive, #1218, made a special run from Alexandria, VA, to Front Royal over the Manassas Branch of the Southern Railway (both now being part of Norfolk Southern). Char and I drove down to Arlington, VA, and stayed with my mother, the first time they had met. My goal was to photograph the locomotive at several points along the way, which was done successfully. In the photo at right, Char is standing next to the massive piston of the 1218 in Front Royal. The day became blistering hot, so we abandoned the return trip to Alexandria and drove west into West Virginia. I wanted to show Char the Randall place, my ancestral home at Peru, WV, and some of the scenery in my favorite part of the world.
The South Fork of the South Branch of the Potomac River flows past the old home place and we stopped for a swim in the same swimming hole that I used on visits there as a child. The water was clear and at the perfect temperature for just floating around and washing off the sweat and grime from the heat of the day, photo below.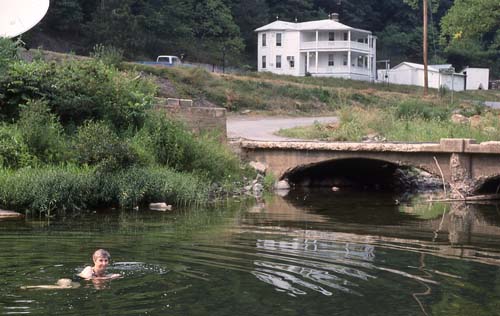 In September we made a two week trip to Seattle and Orcas Island to visit Char's sisters and other relatives and to go on a sea kayaking trip. I had sent one of my boats out earlier with boating friends who were driving cross-country. I do not paddle kayaks but I wanted to go on the trip so I had to bring my own boat. We had a good trip and I got to meet the family. I will sort thru my pix and write more about this later.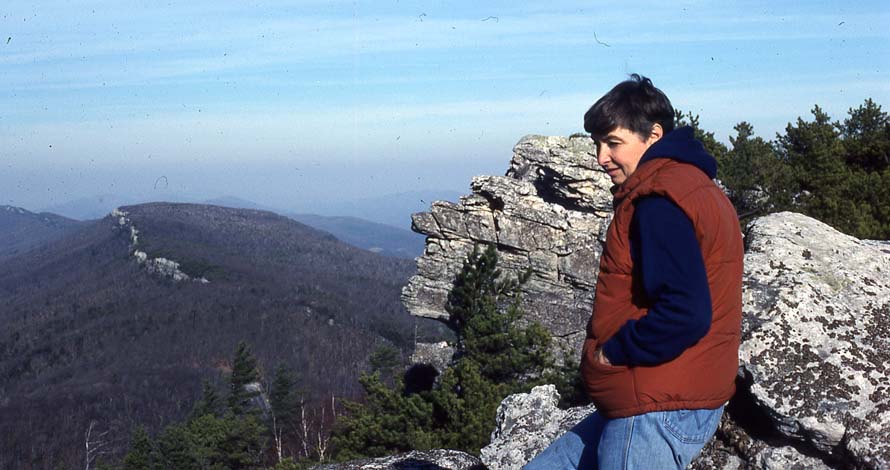 In November we made a return trip to West Virginia, going past the Randall place again and then turning west to see the sights on North Fork Mountain, photo above, and Germany Valley before returning to State College. I believe it was on this trip that Char said to me, "I guess we are going to be moving to West Virginia," or words to that effect. It caught me up short because that was not my reason for making that trip but my love for the area must have been obvious and perhaps it was contagious. We talked about it on the way home. My business was bursting the seams of my house in State College but it was finally making enough money that it would be possible to buy a place and move. Might as well make a big move and not just to a bigger place in Pennsylvania.
We made yet another trip on 5 December, stopping along the way in Moorefield, Petersburg, Franklin and Monterey to subscribe to the weekly newspapers in order to watch the real-estate ads. We stayed ovrnight with my caving friends, Nevin and Judy Davis, in Burnsville, VA, then started home, going west and then turning north along Middle Mountain to see another part of the region. It was starting to snow as we turned onto the Forest Service road going up Middle Mountain, getting deeper and deeper as we went along. We were taking runs at drifts and blasting thru, hoping not to get hung up. Finally, it was clearly too much for the Subaru. Four-wheel drive is not going to do it if the floorpan of the vehicle is resting on the snow. We took a side road off the mountain to the east, hoping to escape to a lower elevation and less snow but it was not to be.
After finding the side road to be impassable we doubled back and stopped at a cabin along the road that we had passed a few minutes earlier. "We're staying here for the night," I said. Char looked skeptical and asked, "How are you going to get in?" "This is an emergency. I'll break a window if I have to but first I will look for a key." Bingo! I found a key in just a minute or two and we were in. There was a bed, a woodstove and a supply of wood and some food. We also had some food with us so we were set for the night. Later a farmer came by driving a truck with big tires and high clearance, checking on his cattle. I talked to him, found out who owned the cabin and explained why we were there. He was certain it would not be an issue for the owner. I talked to him later and he was glad to have been helpful.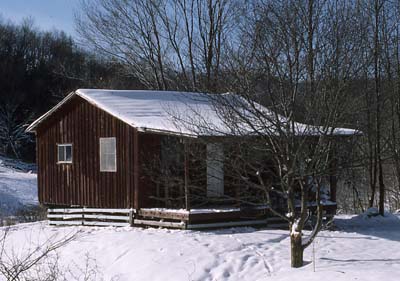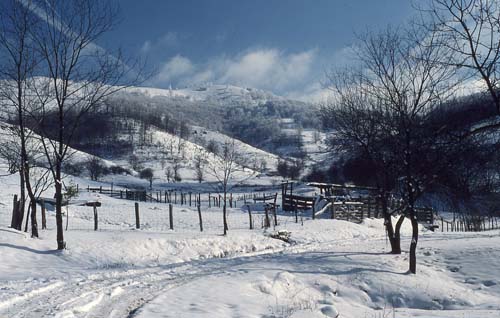 Ronnie Warner's cabin, our refuge, and the view to the east from the cabin of Yokum Knob, 6 December 1987.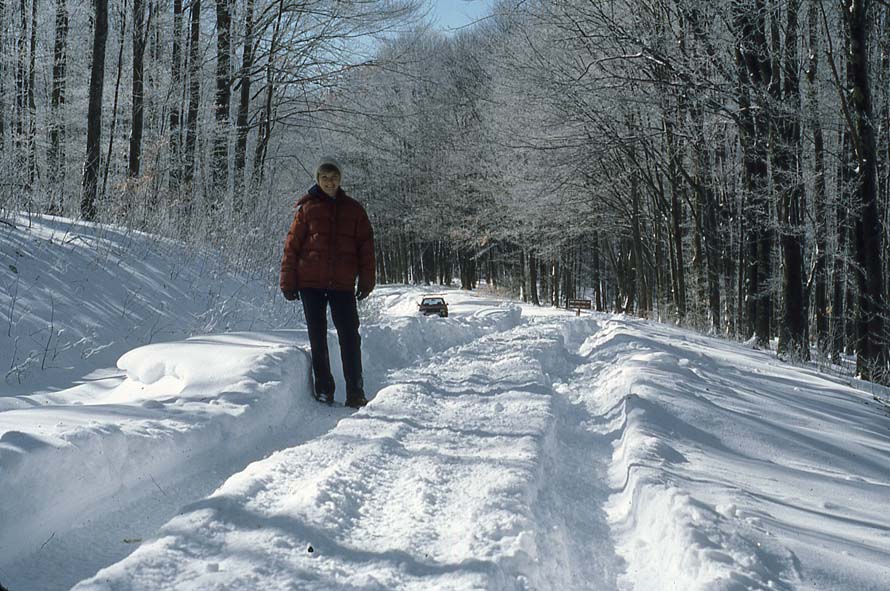 Char on the Middle Mountain Road. It took seven tries to break thru this drift and escape from the mountain.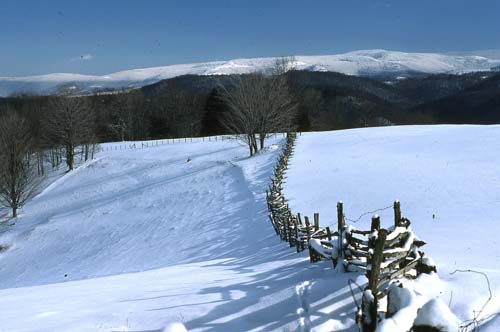 In the morning we were able to drive out, though it was tricky in some spots, with some major drifts, above. The photo at right is the view of Allegheny Mountain, looking east from Middle Mountain. Just a short way north we turned west and descended the mountain to Glady and were able to follow a more-traveled road. If we had risked blasting a few more drifts we could have done that the day before and avoid being stranded. But, what the heck, it was a great adventure. Char was still skeptical.
The papers started coming and we read the ads each week, assembling a list of interesting properties. We were looking for 50 to 100 acres, mostly wooded but with some pasture for horses, a small creek and a flat area where I could build a warehouse. I would love to have a cave but that was a stretch. By mid-January 1988 we had assembled a list of 10 places in four counties and two states listed by five real estate agents. The goal was to see what sort of properties were available and at what sort of price. We set out for WV on 15 January.
On Saturday we looked at the six WV properties. Three were occupied, the others were not and two of those were not livable. One new requirement we decided on then and there was that our place had to have a house we could move into. We were going to have to build a warehouse and workshop and, at 50, we were not going to camp out or live in a shack while doing it. The first place had little wooded area and lacked character. The second was a nice location but had a hopeless house. The third was across the South Fork River on a low bridge and had two houses and three barns, all of which screamed for maintenance. The fourth was intriguing because it was close to the swimming hole at Peru but it was only 25 acres or so and was in the flood plain and had suffered damage in the great 1985 flood. The fifth had a nice house and real possibilities but lacked a building site for the warehouse. The last place had an absolutely marvelous house but it was too close to the highway and too close to the neighbors. It turns out they had sold off lots on both sides of the house, thus buying neighbors. I did not think it would be practical to pick up this huge Victorian house and move it to a nice site a half-mile back on the property. So ended day one.
We spent the night at the Montvallee Motel in Monterey. Our appointment with Sherry Sullenberger to look at four Highland County places was not until noon so we drove around a bit on our own. We saw some wonderful welded folk sculptures near Doe Hill and a marvelous Victorian house near Blue Grass that was not being lived in but was not for sale. The first two properties that Sherry showed us were next to each other near Blue Grass. One of them really did have a cave, one that I had explored in 1959, but neither of them were suitable otherwise. The third was near Mill Gap, had right-of-way issues for access and was nestled rather too cozily in a hollow.
By that time it was getting late in the afternoon. The last place had way more acreage than we had planned for, had two houses and was too expensive. We talked about skipping it and heading home but it was owner occupied and we knew what that meant — they had cleaned the place up and had been sitting around all day Sunday waiting for us to arrive. So we went. It was almost dark so we could not see a lot outside but the house was in good condition, ready to move into, there was a pond, a creek, pastures and lots of woods and several good sites for a warehouse. We took down the owner's name and phone number and started for home. We stopped at the fifth place in WV to talk with the owners a little more but the conversation all the way home kept coming back to the last place, at Mustoe.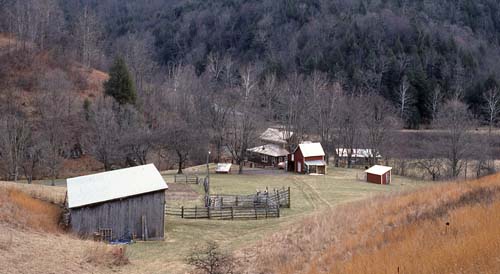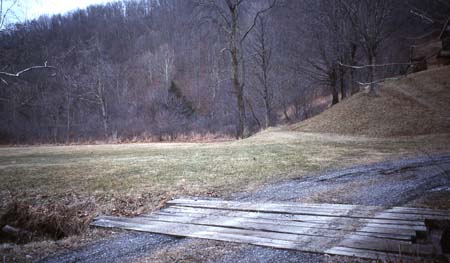 Above left, the Mundy Place from what will later be called the Pine Tree Hill. All four photos, 23 January 1988.
Above right, the bridge over the creek below the house and the warehouse site in the middle distance, in front of the hemlock tree.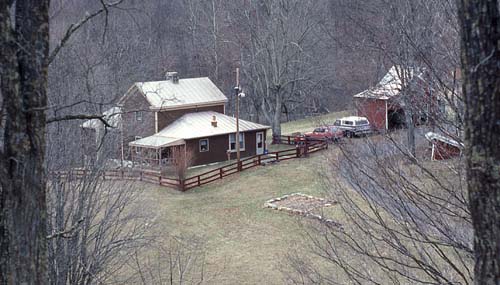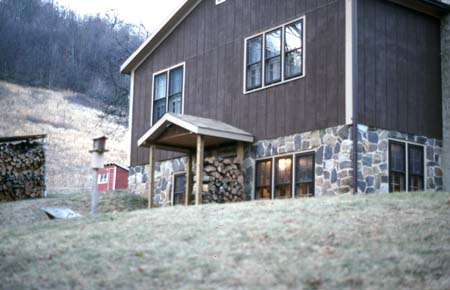 Above left, the Mundy house from the hill above the pond, now known as Cedar Ridge.
Above right, the south side of the house, showing what passed for a woodshed and the barren slope in the distance,
which became the Pine Tree Hill.
The roof above the door was removed when the real woodshed was built and repurposed to cover our fuel tanks.

Below right, Corbett's Store in Mustoe on 8 April 1988, the day we closed on the property.
I still own the 1981 Subaru, now 34 years old, shown in the photo, and use it frequently around the farm.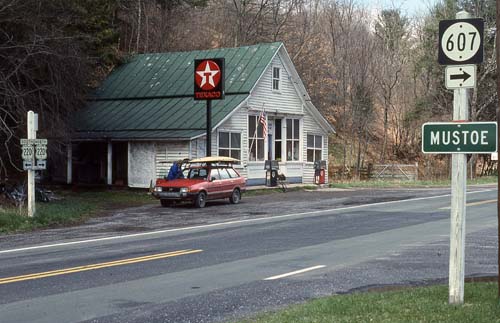 On Monday we called the Dawsons and arranged to come back on the coming weekend, 23 January, for a closer look in daylight. We stayed at the motel in Monterey again and spent several hours on Saturday exploring on foot and by vehicle as much as was accessible. I inspected the building sites and tried to follow the creek but it passed thru an impenetrable tangle of brush. We were hooked and decided to buy the place that we almost did not look at. We made an earnest money payment and agreed to the purchase price contingent upon getting a mortgage at an affordable rate and getting permission from the county to run our business in an agricultural zone. We came back in March for a Planning Commission hearing on a conditional use permit, which was granted with little comment, and we arranged the mortgage. We closed on the property on 8 April, began work on the warehouse a week later and began moving.
By great good fortune, I made contact with George McWhorter who was mayor of Monterey and who had recently retired as chief Civil Engineer for a major power project in nearby Bath County. He agreed to work with the contractors and oversee the warehouse as a retirement project at an hourly rate I could afford, which was much less than his time was worth. I will be eternally grateful to Mac because the foundation and drainage work was complicated. I'm certain we could have erected a five-story building on his foundation. Our contractor erected the shell of the building and I planned to do all the interior work myself, which wound up taking several years, but that's a whole other story.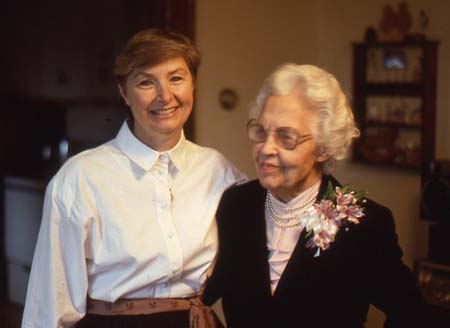 Char and my mother, Mary Heath Sweet, just before the wedding.

Char continued to work at Penn State until the end of June, when she resigned and moved to Mustoe. I made a round trip between State College and Mustoe every 5 to 7 days for the whole year, hauling a load of stuff down in my 20-year-old pickup, checking on the building, mowing the grass and whatever else needed to be done and going back to pack and ship orders and run the business in State College, then repeating the whole process. In November Char's divorce at last became final and we took time off from this madhouse to get married. We drove to Arlington, picked up my mother and thence to the Stanley home in Lansdale, where we had arranged for a Justice of the Peace to carry out the ceremony on the 20TH. There had been several hitches leading up to this day and then the JP was late. We started to wonder if we were actually going to pull this off but he eventually arrived and we did it. Otherwise, my main memory of the day was the torrential rain.
After the wedding there were a few more trips to State College, then, in mid-December, I rented a 24-foot moving van, called out all of my Outing Club friends to load it and the business officially closed in State College. In Mustoe I called on a couple of young men I had met to help and we disgorged the truck into the unfinished warehouse in an untidy pile and I returned the truck. The business reopened on 3 January 1989 amid chaos in its new location.
Mustoe

---
John R. Sweet
---