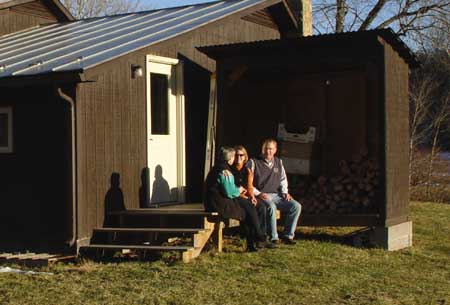 29 December 2003 – Here is the small porch on the SW end, with Char and friends enjoying the sunset.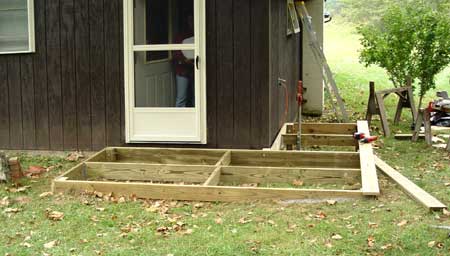 24 September 2005 – Framing is complete for stage one.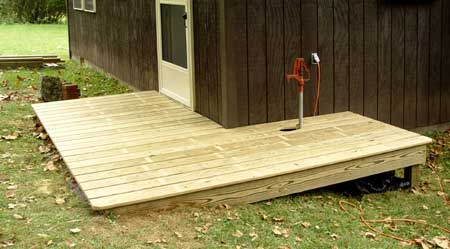 25 September – Stage one is complete. The left edge rests on the ground rather than on posts to reduce root damage to a large sycamore tree.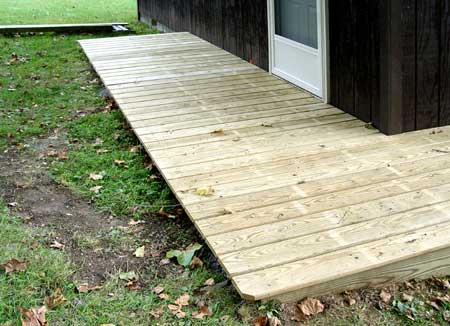 29 September – Stage two is complete, being just a simple extension from stage one to access the main porch.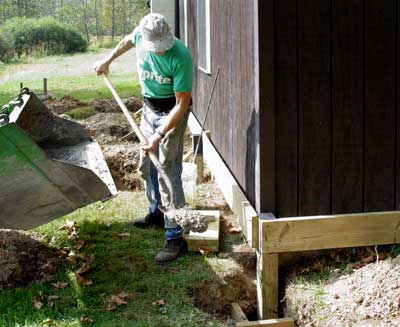 14 October – Pouring concrete to anchor the posts along the cabin wall to begin stage three. The porch is not attached to the cabin but rests on posts set in the ground. The posts next to the cabin rest on the main footers of the building.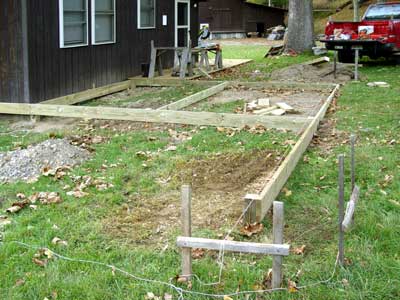 15 October – The band joist along the building is now in place and framing is under way.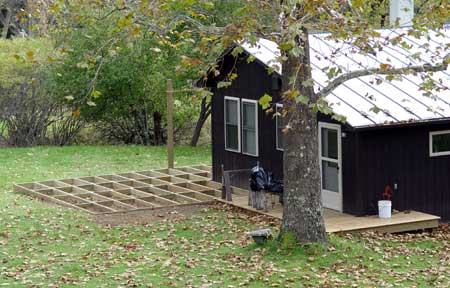 28 October – The framing for stage three is now complete, including the tall posts which will support the roof in stage four.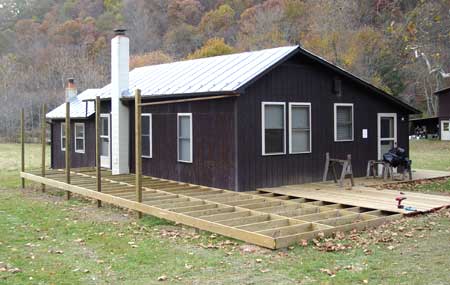 4 November – The flooring is now underway.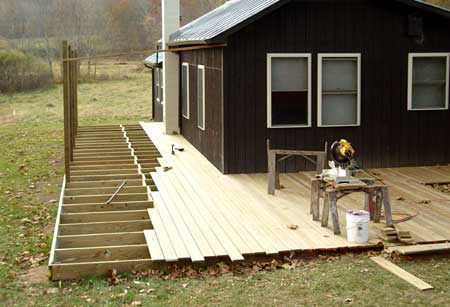 6 November – The flooring is about two-thirds finished. The weather had been most cooperative up to this point but I was sick for a couple of weeks and by the time I was well winter had set in.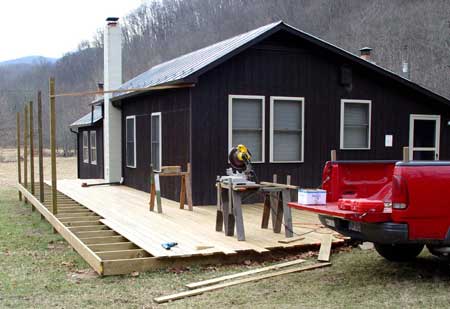 13 January 2006 – A decent day in mid-winter let me lay a few more boards.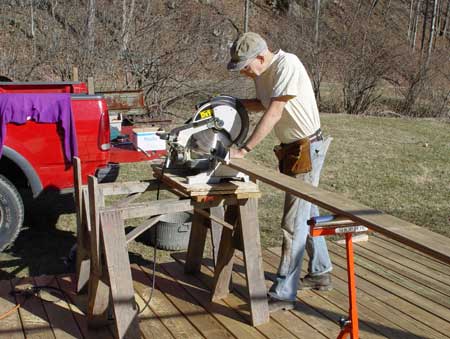 28 January – This is January?!   Sawing flooring, above, and driving screws, below.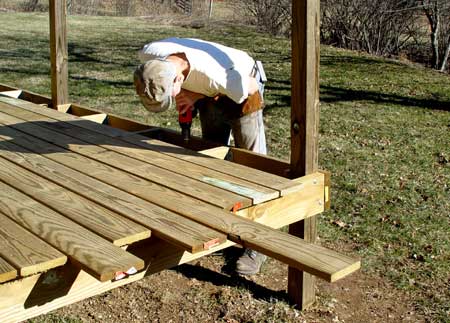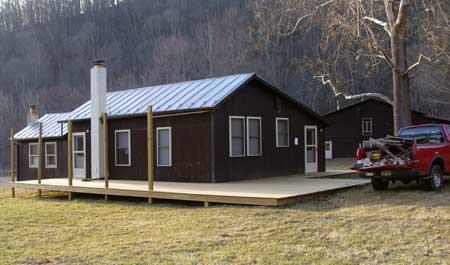 28 January – The floor is finished and the tools all loaded to put away.
It rained the next day and winter returned in February. We missed our 2005 completion goal for stage 3 by less than a month.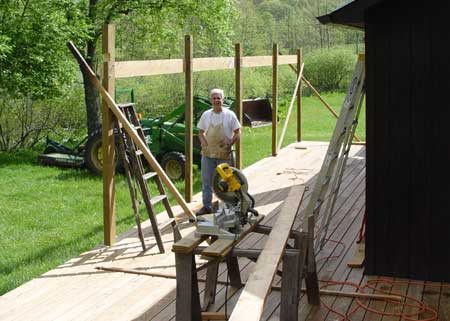 13 May – John Hull came over from Harrisonburg to help for a day. We put the beam and ledger for the roof in place and cut all of the rafters.
14 May – Several of the rafters were set before a thundershower stopped work.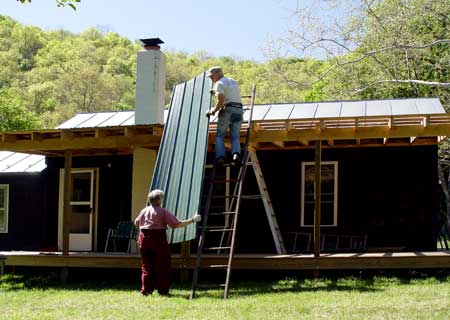 20 May – Putting the metal roofing in place   Photo by Self Timer.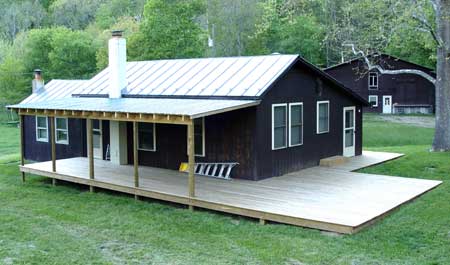 20 May – The porch and roof are complete.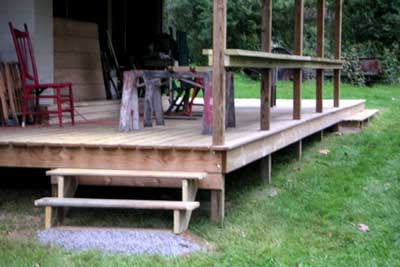 12 September – We have added steps at the near end and one long step along the open part at the far end, as well as a railing the length of the roofed section. The railing is made from a 2 x 12 so that it can be used as a bench for sitting and also as a table for eating or other activities. It is slightly lower than a normal railing to allow it to work as a table.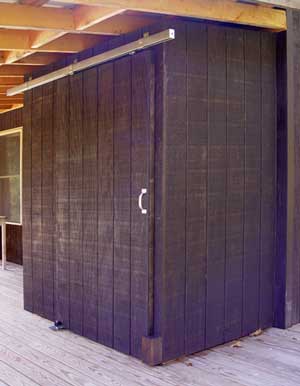 19 September 2006 – Done at last! The final stage was this storage shed designed to hold the barbeque grill, chairs, and other things we will use on the porch. Initiated with a couple of events this year, we hope to enjoy our porch more frequently with friends and neighbors in the future.