White-Nose Syndrome in Bats
Last Update: 13 February 2008
White-Nose Syndrome is a serious, often fatal, affliction of bats. So far it has been observed primarily in New York and Vermont but precautions are being advised for all surrounding states. I will not attempt to describe the problem here. Below are links to several resources that should be helpful.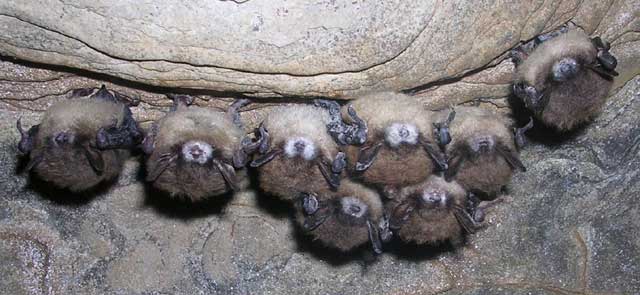 A cluster of hibernating Indiana bats [Myotis sodalis] in a New York cave, most of which exhibit the White-Nose Syndrome
Photos by Alan Hicks, New York State Deptartment of Environmental Conservation.
U.S. Fish & Wildlife Service — News From the Northeast Region: Something is killing our bats — The white–nose syndrome mystery – This report links to press releases from New Jersey as well as New York and Vermont. It also includes detailed instructions for decontamination of caving clothes and equipment for cavers who might come in contact with the white-nose vector.



Closeup of a little brown bat [Myotis lucifugus] with white nose.




An impressive cluster of bats. These are not sick but I could not pass up this photo. I will note the species as soon as I get it. Higher resolution versions of these photos are available from the NYSDEC web site.




Another cluster of apparently healthy bats.
WAMU Public Radio — A radio interview with Ward Stone, Wildlife Pathology Unit of the N.Y. Deptartment of Environmental Conservation, 6 February 2008. This is a 3.8 MB, MP3 audio clip. Right click the link and select Save Link As or Save Target As, depending on your browser, to save the file on your computer. A left click will play the clip directly over the internet. This eight-minute segment is the bat portion from a 25-minute interview covering several other wildlife issues. It is worth a listen.
Associated Press — Bat deaths in NY, VT, baffle experts – 30 January 2008. This is a general-media report that appeared on Yahoo.
Bat Conservation and Management — Forum on white-nose syndrome.
National Speleological Society — U.S. Cavers Forum on white-nose syndrome. So far our local caves in the Burnsville Cove are unaffected. However, The John Guilday Caves Nature Preserve in nearby West Virginia has been closed to cavers, as well as Elkhorn Mountain Cave near Petersburg. These are all important bat habitats.
---
Please contact me if there are broken links or important things missing!
J R S
---