Sinnett Cave in 1901
Caddie and Bessie Sinnett, 4 September 1901
Last Update: 16 February 2007
On Wednesday, 4 September 1901, Caddie Sinnett [22] led her little sister, Bessie [11], into the cave entrance across Thorn Creek from their house. In a side passage a hundred yards or so inside the cave they left their names for posterity.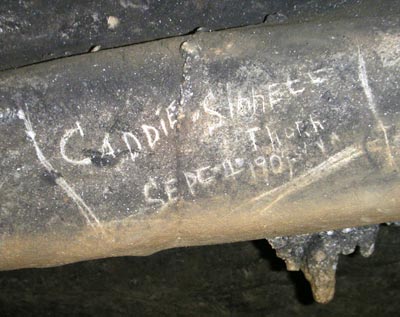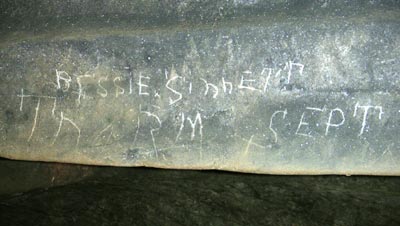 Photos by John Sweet, 28 October 2006, more than 105 years after the names were inscribed.
Malinda Catherine (Caddie) and Mary Elizabeth (Bessie) were the fifth and tenth children of Henry Sinnett and Mary Elizabeth Moyers of Thorn, West Virginia, and the great-great-granddaughters of Patrick Sinnett and Catharine Hevener. Following is a portion of their story.
Patrick Sinnett [17 March 1752 – 19 December 1857] emigrated from Ireland in 1773. On 1 May 1783, at the age of 31, he married Catharine Hevener, age 15 [1768 – 1860]. The first of their eleven children was Henry [4 June 1783 – 19 September 1854]. Catharine must have been quite obviously pregnant on her wedding day, assuming that the dates shown are correct. The Sinnett property was in Augusta County, Virginia, until Rockingham County was formed in 1777. That portion of Rockingham became Pendleton County in 1787, where it remains today.
Henry Sinnett married Catharine Fleisher [1788 – 1854 or later] in 1806. They took a bit more time in starting a family, with their firstborn being Jacob [1815 – 1863]. They had a second son, Henry Jr., and a daughter Catharine, so we now have two generations of Henrys and three generations of Catharines.
Jacob Sinnett married Susannah Eye [1814 – 5 May 1860] on 10 August 1834. They too got right into family life with son William, born 7½ months after the wedding. They had ten children, including yet another Henry [17 October 1837 – 9 April 1899] and Catharine. Jacob, a Confederate sympathizer, was shot by Federal troops retreating northward after the battle of McDowell in 1862.  

I have found an interesting article describing the events surrounding the murder of Jacob Sinnett in some detail.
The latest Henry Sinnett married Mary Elizabeth Moyers [27 April 1849 – 14 December 1930] on 20 January 1870. The fifth of eleven children was Malinda Catherine (Caddie) [28 February 1879 – 4 November 1962] and the tenth was Mary Elizabeth (Bessie) [11 May 1890 – 1978]. They had a brother Henry, at least the fourth Sinnett by that name. Catherine is, by this time, reduced to a middle name and is now spelled with an "e". Caddie married Charles Austin Propst and had a son and a daughter. Bessie married Wayne Propst and had three sons.
The information presented here is from A History of the Descendants of Patrick Sinnett of Pendleton and Ritchie Counties, Virginia (West Virginia) by Walter L. Eye, 1981. It is available in the public library in Franklin, WV.   I wish I could have seen these young ladies going caving in 1901, probably wearing long skirts and several petticoats! I wish I had talked to them after I first entered that cave in 1956 to see if they remembered scratching their names on the wall all those years earlier.
J R S
---