2000 Christmas Letter
Following is Mother's 2000 Christmas letter, for anyone who did not receive a printed copy.
---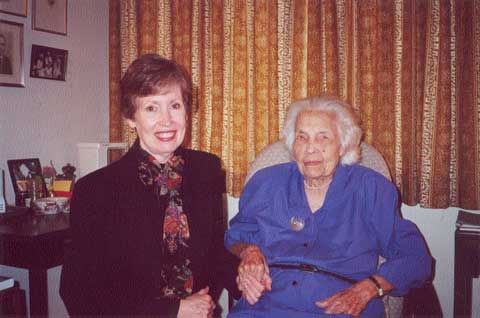 Dear Friends and Relatives,
"I'm writing for my Mother this year. A lot has changed in the past year so I'll try to bring you all up to date." That is how I began my letter last winter and it is true again so I decided to leave it as is.
Last year it was a change for the worse as she went from basically living alone to having round-the-clock assistance if not care. As you may recall, she suffered a steep decline in late 1999, became very weak and was, at times, delusional. When I last wrote we had no real idea what had happened. We now know that it was largely an adverse reaction to a drug she had been taking for some time combined with some other factors. We changed her basic anxiety medication and discontinued everything else, whereupon she made a remarkable recovery. Her legs remain unsteady and she has no stamina so she still requires assistance. Her mind is clear and alert.
Jeanne Reedy remains our "Chief of Staff," supervising more or less the same team of about eight ladies that we have had all year. Everyone takes a shift getting meals, cleaning up, and just generally keeping Mother company. Char and I shared the night shifts last winter but we are now doing only one night a week each, so our lives have returned to something passably normal. Dr. Billingsley, who has looked after her for years, is a good old-fashioned country doctor who makes house calls cheerfully at all hours. He has made fewer calls of late but we know he is there if needed.
Mother's life has taken on a pretty steady routine. She eats breakfast between 7 and 8, lunch about 11:30 or noon, supper around 5, and goes to bed about 8. In between she works crossword puzzles, reads a little, visits with anyone who calls or drops in, goes for short walks when she is able, and occasionally takes a nap. She often answers the phone herself and would be pleased to hear from anyone who would like to call. Her address remains:
Mary Heath Sweet, Box 493, Monterey, VA 24465     540-468-2807
The photo at top shows Mother with her niece, Martha Ann Sweet Colangelo, who visited us in September. Mother's cat, Roamer, who was pictured here last year, sadly disappeared this fall. We have no idea what happened to her and Mother misses her affections. For those who are able, please visit her web site at http://johnrsweet.com/personal/MHS/index.html for more photos and the latest news. I have been slow to add updates but I promise to do better next year. Remember, if there is no recent update, that no news is good news.
I'm sorry that this letter is going out a bit late. Mother was always prompt about everything while I tend to let events get ahead of me. Best wishes for the New Year from all of us in Virginia.
John
---