Mary Heath Sweet
14 December 1905 – 15 July 2003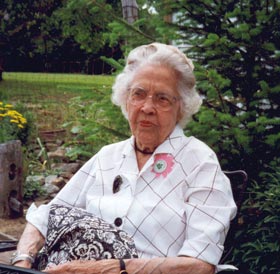 MONTEREY — Mary Heath Sweet, 97, of Monterey, died Tuesday, 15 July 2003, at The Springs Nursing Center in Hot Springs. She had been in declining health for several years and suffered a hip fracture July 7.
Mary Heath Ochiltree was born on 14 December 1905 in Avoca, Iowa, the last of three children of Robert S. and Anna Randall Ochiltree. After graduating from Avoca High School in 1924 with a normal training certificate she taught in the one-room rural schools of Pottawattamie County Iowa for four years. She attended the University of Omaha part time while teaching and then full time in 1928-29, earning a two-year degree, qualifying her to teach in Council Bluffs schools, which she did for two years. In August 1931 she took a position with the Peking American School in Peking [now Beijing] China where she taught third and fourth grades to international students. About a quarter of her students were Chinese with the rest from the foreign community in Peking.
While in China she met Lewis K. Sweet, from Brownwood, Texas, who was in China practicing pediatrics at the Peking Union Medical College. They were married 23 December 1933 and returned to the United States the next year. They lived first in San Antonio, then in Tahlequah, Oklahoma, before moving to Arlington, Virginia, in 1938, when Dr. Sweet was appointed Chief of Pediatrics at Gallinger Hospital in Washington, DC. Their only child, John Robert Sweet, was born on 27 September 1938.
They moved to Falls Church in 1948. Dr. Sweet took a position with the National Institutes of Health in 1950 but died later that year. Mary Heath had been a homemaker and mother since leaving China but now had to return to teaching, this time in the Arlington County schools. This was quite a change from the one-room schools of Iowa. She was fortunate that the post-war boom in that area created a desperate need for teachers, even those without four-year college degrees. She attended summer school at George Washington University and received her bachelor's degree in education in 1961. She sold the house in Falls Church in 1965 and moved into Arlington. She taught fourth grade at McKinley Elementary School from 1950 until retiring in 1970.
After retirement she began tutoring Asian refugees from the Refugee Center in Arlington, helping them to learn English and adapt to life in the United States. She also worked as a volunteer at Columbia Hospital for Women in Washington for over 20 years, until moving to Monterey in 1991. She was active in the Monterey Garden Club for several years until declining health restricted her activities. She was cared for at home by a wonderful group of women until being hospitalized after her fall.
Mrs. Sweet is survived by her son, John R. Sweet, and his wife Charolette, of Mustoe, three step-granddaughters, and five step-great-grandchildren. She was preceded in death by her husband, her older sister, Margaret Rogerson, and a brother who died in infancy.
A memorial service will be conducted in Monterey in early August. Memorial contributions (tax deductible) may be made to The Highland Education Foundation, HCR 02, Box 33, McDowell, VA 24458. (Highland County is the smallest school district in the state. HEF assists with enrichment programs that would be tax supported in larger districts.)
The memorial service was held in the Mountainview Room of the Highland County Library in Monterey on Sunday August 10 from 2 to 5 p.m. in conjunction with the opening of an exhibit of her art work, family photographs, Chinese things, etc. The service was followed by a reception and refreshments. Most of the exhibit will remain in place until September 15. A few items were displayed only during the opening event. The photographs on display will all be available on this web site in the near future.
Highland Education Foundation was started several years ago by Koressa Malcolm and others to receive private, tax deductible, contributions. The money is used to help the school system fund projects and buy equipment that is beyond the means of the School Board. It was used, for example, to send the Destination Imagination teams to international competition in Knoxville, TN, in 2002. Teachers are encouraged to submit lists of things they wish their budgets would cover. Send memorial contributions to: HCR 02, Box 33, McDowell, VA 24458. Considering Mary Heath's life-long involvement with teaching, it seemed appropriate to remember her through a fund that provides direct support for education without administrative overhead expenses.