Mary Heath Sweet
Last Update: 20 December 2003
Photo Gallery 2
Following are photos taken before, during, and just after Mary Heath's trip to China. This section is in serious need of expansion as there are very few China photos and none from San Antonio or Tahlequah, before the move to Virginia. Gallery 3 is reserved for this purpose.
| | |
| --- | --- |
| | Mary Heath Ochiltree in Omaha, NB, in 1929. This appears to be her college photo at the University of Omaha. It is a studio portrait but the photographer is unknown. |
---
Mary Heath Ochiltree in Peking, China, in 1933, shortly before her marriage to Lewis K. Sweet in December of that year.   Photographer unknown.


 





---
Mary Heath taught third and fourth grade at the Peking American School from 1931 until 1934. At left is the title page of the school yearbook for 1933 and above is her photo in that yearbook.


---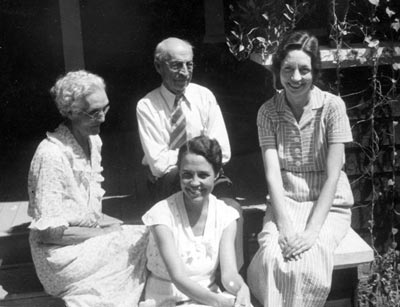 The Ochiltree family in 1934, shortly after Mary Heath and her new husband returned from China. Parents Anna and Robert Ochiltree, sister Margaret at right, and Mary Heath front and center. The photo was probably taken in Los Gatos, CA, and probably taken by Lewis Sweet.
---
Mary Heath at the Randall homeplace in Peru, WV, in April 1938. The place was sold by her grandparents to cousins, the Dashers, in 1859. Her mother was born four years later in Iowa and had heard stories of Virginia all her life. She was 75 when Mary and Lewis took her there to to see the place for the first time.   Photographer unknown.


 

---
| | |
| --- | --- |
| | Mother's father, my grandfather, Robert S. Ochiltree with a ship model he had built. He had been a sailor, cowboy, and carpenter before marrying my grandmother and settling down to be a rural mail carrier. Photo taken in front of our home, 1915 North Highland Street, Arlington, VA, in 1940, probably by Lewis Sweet. |
---