Mary Heath Sweet
Last Update: 23 February 2007
Photo Gallery 6
Following are photos of Mary Heath's friends and relatives from 1981 to 2000.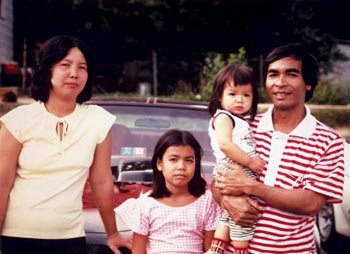 The Chea family (Tek, Pidor, Luia, and Chanta), from southeast Asia, I think Cambodia. Mother worked with several refugees from the war and political strife in Asia to help them learn English and adapt to life in the United States. She became good friends with the Cheas, visiting with them often and watching the children soak up a new language and new life style with ease.   Arlington, 1981.   Photographer unknown.
---
Mother and Margaret Russell grew up together in Avoca, Iowa. They were playmates as children, went to school together and both taught in one-room country schools until Mother left to go to China. They have kept in regular touch for over 90 years! Margaret has lived in Avoca all her life. She is shown above as the Lady in Red in 1996 and in more subdued attire in 1997. At left we see Margaret on her 100th birthday, 14 February 2006. Sadly, she died on 31 January 2007, just two weeks short of her 101st.

Photographers unknown.
---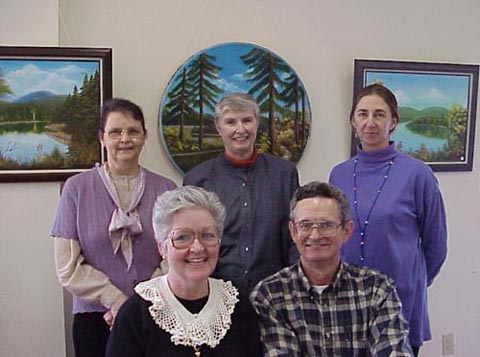 One of Mother's helpers, Sharon Taglianetti, had a showing of her paintings at the Highland County Public Library, sponsored by the Highland County Arts Council. The photo shows Sharon with her husband, Tony, along with three members of the HCAC Board of Directors, Eva Aumen, Char Sweet, and Susan Applegate. Three of Sharon's paintings are on the wall in the background.   5 March 2000.   Photo by Pat Wilson.
---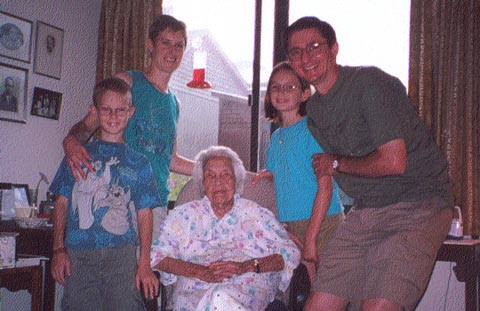 All of the kids came to visit in the summer of 2000. Here is Mother in her apartment flanked by stepgranddaughter Stephanie Brondani and her husband, Altair, and their children, Julia and Kevin, in July 2000.
---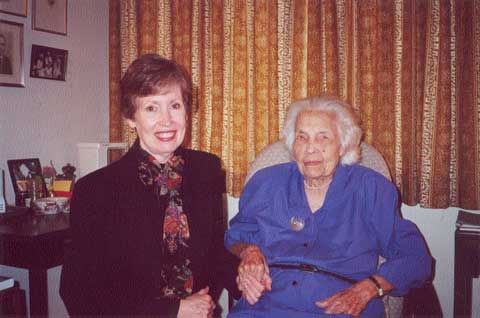 Mother's niece, Martha Ann Sweet Colangelo, came for a visit later in 2000. She is the daughter of Horace Sweet, my father's nearest older brother, and now lives in Houston.   25 September 2000.   Photo by Betsy Spencer.
---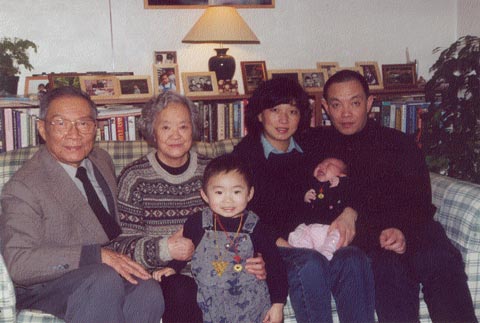 Tommy Hu and family, mid-January 2000. Left to right, Tommy, wife Mary, grandson Edmund, daughter-in-law Jan, granddaughter Emily born 17 December 1999, son Ronald. Tommy was one of Miss Ochiltree's third-grade students at the Peking American School in 1933. They have kept in touch for all these years.   Photographer unknown.
---