The Sweet Family in 2008
This site is designed for 800 x 600 resolution. If you are using a higher resolution monitor,
these pages may display better if you narrow your window to around 800px.
The main news of 2008 is that we have finally completed our two-year house renovation project. I kept my nose to the grindstone pretty rigorously and had two helpers for much of the year. Char is enjoying her new kitchen and I am glad to be shut of the daily carpentry, plumbing, or whatever. We decorated a little for Christmas, including a horizontal white pine tied to one of the new beams. Click on the photo at right to get to the final chapter of the house saga, with links that will take you back through previous chapters if desired.
The other major event was that Char had another stroke, early in October. She was in Roanoke Memorial Hospital for two weeks and then in a rehab facility for several weeks after that before coming home in mid-November. The good news is that, while not fully recovered, she is making good progress and functions normally in most respects. Nette Johnson, a neighbor, is working with her on speech therapy since there are no professional therapists anywhere nearby. Nette took the photo at right of Char with Nette's stuffed fox. Char discussed her stroke in some detail on page 2 of our Christmas Letter so I won't dwell on it here.
Having noted those main events, let's go back to January and take the year as it happened. Cave surveying was my major activity as we pushed further into virgin territory in the new part of Water Sinks Cave. By the end of the month all major leads had been pushed and we were left with clearing up some loose ends and doing some surface surveying to tie things together. Click on the photo at left for a detailed report on this project. I also did some 'caving' under the house to hook up the pipes for radiant heat in the new bathroom. That is covered in the house pages.
In early February I finished up a few details on last year's project in the bathroom and by then it was time to open our trees for sugar season. We had a pretty good season, finishing five batches before shutting down in mid-March. I managed to fit in a couple more cave trips between sugar batches and spent the rest of my time learning just enough about AutoCad to be able to do some drawings for the new kitchen. On the Vernal Equinox, appropriately enough, we finally got our solar collectors up onto the roof and the myriad of piping hooked up. We now have hot water for domestic use and floor heating primarily from the sun, with additional input from a heat exchanger on the wood stove during cold weather.
I had several more cave trips in March before the house job got too intense. Char went to her annual chamber-music retreat at Garth Newel Music Center and played in a concert at the end of the retreat. The third photo at left, taken from The Recorder, shows her with her violin at practice with Kathleen Dullea and Chet Swartz. A couple of weeks later she participated in a yoga workshop with Lilias Folan at The Homestead in Hot Springs, which also resulted in her photo appearing in The Recorder. Lilias is a nationally known yoga instructor.
April and May were pretty much dedicated to the project until late in May when caving resurfaced, so to speak. It was the fiftieth anniversary of the discovery of Butler Cave in nearby Bath County and the fortieth anniversary of the founding of the Butler Cave Conservation Society. The 50/40 Celebration was held on Memorial Day weekend. I think it was a great event but I managed to come down with something and was so sick that I could barely participate. There are several photo albums on Butler Cave in my caving pages. Several hundred people attended the celebration. A bronze plaque was installed next to the cave entrance commenorating its discovery. Next to the plaque in the bottom photo at left is Donnie Miller, who was the first person to actually enter the cave in 1958.
Our youngest daughter, Kathy, has been wanting to buy a house for some while. In February she was convinced she had found the right one so we took a trip to Roanoke to have a look. It is in a hilly section in the southeastern sector of the city and had been in foreclosure, then totally renovated just last fall. Click on the photo, below right, for a quick tour of the house. She closed the deal in March and moved in in early April. Then in June we got an urgent call, "My chimney is leaning way over!" And indeed it was. Shane and I went down the next Saturday. What we found is detailed in the photo gallery of Kathy's house.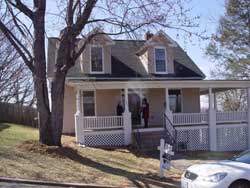 Hay season came as usual in June. We had pretty good luck with the weather this time and finished up in early July. We did not plant much of a garden because of the time we knew we had to spend on the house but we had bumper crops of fruit to deal with. We made batch after batch of applesauce and sliced peaches, nearly filling our freezer. Pears were bountiful as well but they come late in the season and were left unprocessed when Char had her stroke.
That happened on 2 October. It was not a sudden thing. She became unable to talk sensibly and then almost not at all. We went to the medical center in Monterey and then on to Augusta Medical Center in Fishersville. After an interminable wait in the ER, she was finally seen by a doctor and given a CT scan. They thought she might recover without any intervention but that she might need surgery of a type they could not do at AMC. Once she was in the ambulance on her way to Roanoke Memorial Hospital, I came home to get a couple hours sleep. I had a concrete contractor scheduled for early morning to pour our kitchen floor and a blacksmith due at noon to shoe our horses. Once Char was in Roanoke, Kathy took over day-to-day responsibility for her so I was able to continue with the project. I did make the run to Roanoke once or twice a week while Char was there. Her story of this ordeal is in our Christmas Letter as noted earlier.
We are both pleased with the new kitchen and grateful that she has largely recovered from the stroke. I am also grateful not to be faced with working on it every day. Looking forward to next year, I will probably try to work on the mud room, to get it painted and new storage cabinets installed. We have a lot of fence to build and the warehouse roof is in need of painting. I'll be busy but none of these things disrupt life like having no kitchen!
 
| | |
| --- | --- |
| | 5 November 2008:   Wow, what an election! After eight years lost in the shrubbery, mired in needless war, and suffering the disdain of much of the world, the American people have done something they can be proud of. And, thankfully, it was a clearcut victory. Even Virginia, the state that invented "massive resistance," went for Obama. Highland County is a conservative area so, predictably, went the other way but we are proud that our precinct supported Obama 62-54. With two wars and an economic collapse awaiting him on Inauguration Day, Obama has more than enough to deal with. We cannot expect miracles but at least we will soon be out of the Bushes. |
Happy New Year to All
* * * * *
John and Char Sweet

Our herd taking their ease, recycled from last year.