The Sweet Family in 2009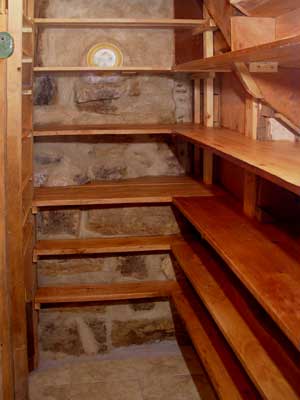 Pantry shelves, 5 January 2009. The stonework in back
is the old chimney in the center of the house.
We started off our 2008 report by saying, "we have finally completed our two-year house renovation project." Well, is something like that ever completely done? Right after the holidays I was back at it, installing the shelves in our new pantry, created from waste space under the stairs. The boards were all salvaged from the project, then planed and finished. Most are oak but one board is cherry and a couple are pine. It was fun contouring the boards to fit around the stones in the chimney.
Caving took a back seat for me this year. I believe I was on only two actual cave trips all year, though I participated in several surface digging projects (hoping to open up new caves) and a couple of work days at the Butler field house. In February, three of us went to nearby Breathing Cave to take photos and to put dye in a stream to trace where the water emerges. A couple of weeks later, biologists discovered that bats in the cave were infected with White-Nose Syndrome, a fatal fungal infection that has been spreading rapidly in the northeastern states. This is as far to the southwest that it had been discovered at that time. It is not dangerous to humans but we had to decontaminate all our gear to avoid spreading the fungus to other caves. Later in the year I took the two guys who work for me into the Water Sinks Subway, which was discovered just a couple years ago.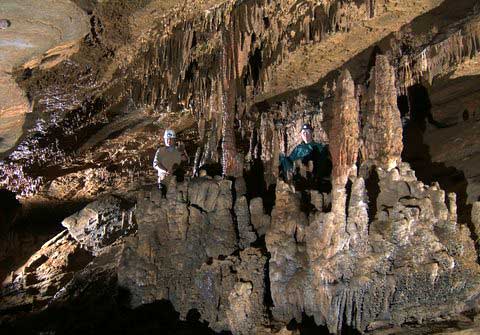 Breathing Cave, 9 February 2009, George Damewood at left and John Sweet at right.
Photo by Phil Lucas.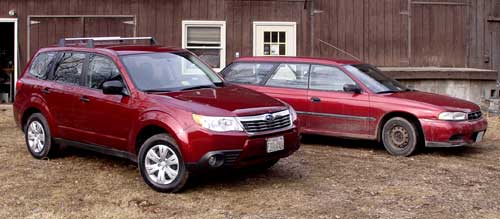 Our new and old cars, 11 February 2009.
 
Also in early February, we bought a new car. Char had been displeased with our 1998 Brighton for some while. Actually, she had been displeased with its headlights for 11 years, since they really do not light up the road. After some searching around we decided it was time for another Subaru. Four-wheel drive, standard transmission, and good fuel economy are bottom-line requirements and no one else offered such a combination. We tried out both the Outback and Forester, liked both, but decided on the Forester, primarily because it sits up a little higher and has more cargo space. It is indeed quite uptown. We've never before had a car with all the electrical gizmos: power windows, remote-control door locks, and interior lights that stay on for a moment after getting in and closing the door. It also has a gas-mileage indicator on the dash. These are all nice features but I remain uneasy about what will happen when things start to wear out. The main thing is that it has superior headlights!
This car has several minor but very annoying features. The headlights are not wired through the ignition switch like older Subarus were, so there is a danger of leaving the lights on after parking. The odometer is electronic rather than mechanical and it IS wired through the ignition switch, so one must turn on the key to read the mileage. The fuel gage, while mechanical like the older ones, is now run through the ignition switch, so one cannot tell how much gas is in the tank just by looking in the window. These things are normal on many other cars but represent engineering backsliding for Subaru.
Our sugar season started late this year, with the first batch not coming off until the end of February. Quantity was moderate but quality was excellent, some of the best in years. Regardless of a late start, the season ends when it warms up, so we were all cleaned up and put away before the end of March.
| | |
| --- | --- |
| Crocus in the lawn, 24 March 2009. | In April it was time to start working on the lawn in front of the house. There was a hump in the lawn such that rain water drained back toward the house instead of away, not a good situation. The plan was to remove the topsoil and stockpile it, then remove enough subsoil to create the necessary slope, then backfill the topsoil and plant grass. There is a page in our House Renovation series about this project. We had to wait until the crocus had bloomed, then dig up the crocus bulbs and hold them for replanting after the lawn is restored. We won't know how successful that was until next spring when we will see what comes up. |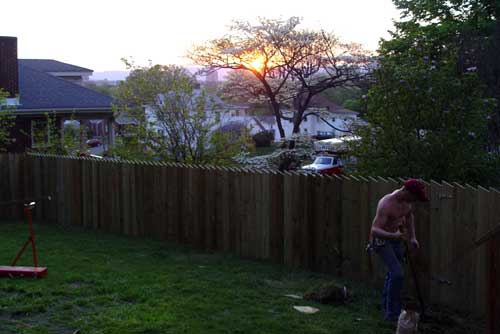 Shane is putting the finishing touches around the gate
as the sun sets over downtown Roanoke, 24 April.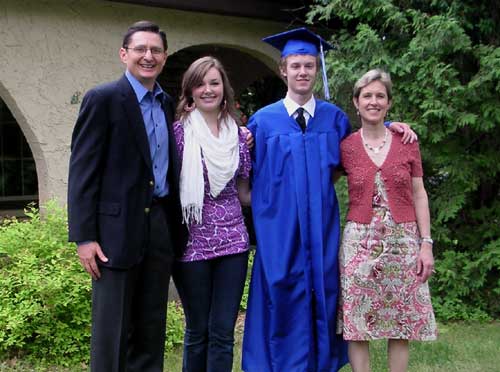 Altair, Julia, Kevin, and Stephanie Brondani on Kevin's graduation day,
9 June 2009.   Photo by Char Sweet.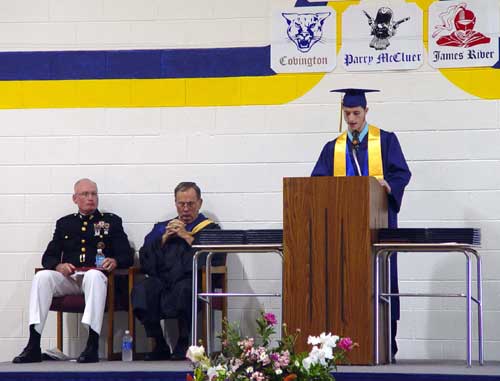 Shane Wiseman introducing the main speaker at his commencement,
Brig. Gen. James B. Laster, USMC, 13 June 2009.
 
When Kathy acquired her dog, Reckless, her unfenced backyard suddenly became a problem. Char and I went down to evaluate the situation, make plans, and buy some of the materials. Later in April, Shane and I spent two Fridays in Roanoke digging postholes and putting up a high board fence. I'm not too good at digging anymore, without my backhoe, so Shane handled that job while I measured and cut boards. The digging was unexpectedly difficult, with a couple of holes being in almost solid rock. Once the framework was done, we both cut and nailed boards as fast as possible. It took two full days to complete and I still need to go back to put in a second gate.
In June, Char traveled to Minnesota to visit daughter Stephanie and her family and, particularly, to attend the high-school commencement of our youngest grandson, Kevin Brondani. She wanted to drive but that was strongly discouraged by all concerned, what with her recent stroke. She hates airports so she went by train. I took her in late afternoon to the Amtrak station in White Sulphur Springs, WV, to catch The Cardinal. The next morning she changed to The Empire Builder in Chicago and Steph met her at the station in St. Paul late that evening, about 30 hours in all for the trip. She greatly enjoyed her visit. In addition to the graduation, she got to see the sights around the Twin Cities and participate in a big neighborhood party and barbeque. She returned via Amtrak in mid July.
While Char was in Minnesota, my farmhand and good buddy, Shane Wiseman, graduated from Highland High School. Kevin's graduating class at Minnetonka High School numbered 702 while Shane's was 28, so it was quite a different, and much more personal, affair. His twin sister, Cheyanne, was also graduating. She is now attending James Madison University while Shane is at Virginia Tech.
Since Shane would be leaving for college in August, we needed to hire another farmhand. By good fortune, one of Shane's basketball and cross-country teammates, Chris Moore, was available. He has two more years in high school so it looks like we are covered until August 2011. It was great to have both of them for a good part of the summer and we got a lot done. Of course hay season occupied a lot of June, as usual, and then we did a big fence project along the summit of Stark Ridge. This is our line fence with the Lawsons. I did about 280 yd of it by myself in 2005. This time we had about 360 yd to do, over more difficult terrain, so I was really glad to have two younger helpers. I got most of the trees cut that were in the way last year but there were still several more to take care of. Mid-summer is not an ideal time to drive posts but there is sort of a Catch 22. Posts are usually driven in early spring while the ground is soft but on this steep terrain, it is much too slick to get up there, let alone work on it, at that time of year. So we banged away, many, many hits with the driver, and eventually got them all in.
Once the fence job was done, we got into painting. The guys painted two coats on the roof of the warehouse, sugar shed, and lumber shed. Happily, I helped very little and they did a good job on their own. Then on to the house. Of course we painted the kitchen-bathroom section during those projects, the previous two years, but much of the house had not seen a brush since we bought the place over 20 years ago. There were some gutters and downspouts to repair and some flashing to redo, so it was not just a simple paint job. Now everything is painted except the east end, which is next year's project. We plan to remove and repair the siding, redo some wiring, add insulation and possibly a new window, then paint everything after all of that is done. We will start this after Chris is out of school for the summer.
Our "pet" blacksnake next to the foundation of the house, 29 May.
 
 
 

A rare blue crayfish found in one of our springs, 17 October.
Cambarus (Jugicambarus) monongalensis
 

Living in the country, we see wildlife all the time: squirrels, rabbits, deer, groundhogs, all manner of birds. Even the occasional snake, though never a poisonous one. We do have one rather large blacksnake, rarely sighted, that lives in and around the house. He can be startling to come across but he is docile and probably removes more mice than our cat does.

We rarely see bears but we know they are around. Shane and I saw a mother with two cubs when we were going up Stark Ridge to work on the fence last summer. Pictured below is a footprint in the road between the house and the cabin.

In October Roger Thoma, a biologist from Ohio State University, came by, wondering if we had ever heard of blue crayfish in this area. "Got lots of them just up the way" I said, pointing toward the pond. His jaw dropped. He had been trying to track down an old reference to blue crayfish "in a spring near Mustoe." Apparently they are very rare. He came back shortly with a dozen of them. It is Cambarus monongalensis, a species of upland burrowing crayfish.




Bear track in the road near our house, 15 May.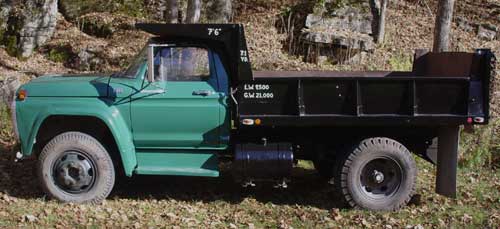 My farm truck after its paint job, 21 October. It was either paint it, build a
garage for it, or let it rust away to nothing. I chose the paint.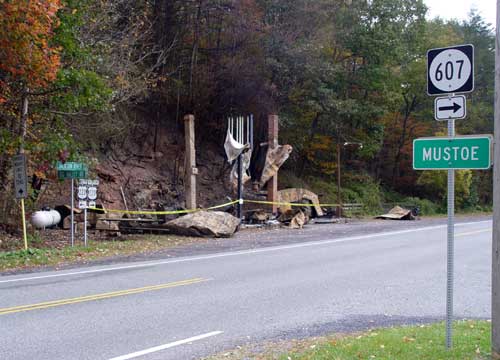 Corbett's Store the morning after the fire, 9 October 2009.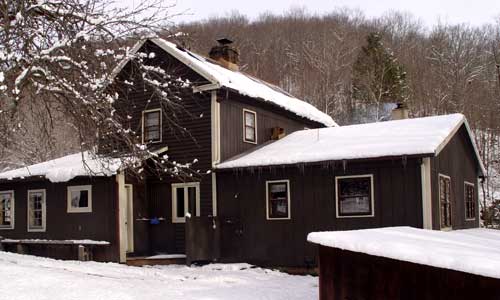 Our house with its fresh coat of paint and even fresher coat of snow, 6 December.
 
We have various sorts of bad news to report. First, two deaths in our immediate family. Buck, the more elderly of our two horses, had been suffering from Cushing's disease for some while. He finally succumbed on 23 May. Chesapeake, his younger sidekick, was devastated and mourned for days but he has now recovered. Then on 23 August Duffy, our Scotch-Highland steer, passed away. He had been getting weaker and more arthritic all the time but it seemed chronic, not terminal. I found him in the morning, next to the rail fence, which he had knocked down in some final spasm. Both of these fellows have left empty spaces in our lives.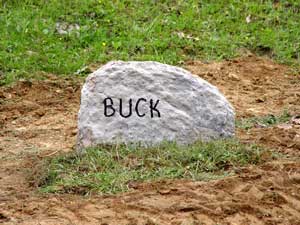 In the early morning of 8 October Corbett's Store, our local general store and former Post Office, burned to the ground. This was a terrible blow to the community. It was a gathering place for locals to get a drink and a snack and exchange the latest gossip. The owner had recently installed a new stove and a gas leak was thought to have triggered the fire. For more details please see the story and pix in The Recorder and a followup story in the next issue.
Char and I each had a big event in November. Mine was a one-day thing but hers went on for two months. Namely, Char decided to play in the Allegheny Highlands Orchestra in Covington again after sitting out for a year. Practice was every Thursday evening from mid-September until the concert on 22 November. I didn't really want her making the 90-mile trip by herself so I went along. I dropped her at the rehearsal site, then drove just a couple of blocks to the CSX rail yard to watch the trains. Switching was going on almost every week. I took some photos and movies and made some sound recordings. I also made friends with a couple of the switchmen but could not manage a ride on the engine. After rehearsal we had supper at the San Juan Resaurant, so we got to know the owner and most of the staff there. The concert of Christmas music was on Sunday afternoon before Thanksgiving and came off very well.
My event took me to the Nelson Rocks Preserve in nearby Pendleton County, WV, to climb a Via Ferratta (iron way in Italian). I used to do technical rock climbing but have not done so for many years. This offered a totally safe way to get up on the high rocks. I went with two caving buddies on a beautiful fall day. We had a great time and it whetted my desire to do a little bit of real climbing again. There are two vertical fins of Tuscarora quartzite some 200 fett apart. The climb starts on the west face of the west fin, goes through a notch, and traverses along the east face to a swinging bridge. The bridge connects the two fins. After crossing, you climb higher on the west face of the east fin, go through another notch, and again traverse along the east face on broad ledges until finally reaching the summit. The bridge was the only scary part but the walk down on a steep trail was the most difficult, severely taxing my bad right knee.
Here I am starting the traverse after the first notch, 3 Nov. This and next photo by Phil Lucas.
 

The bridge to the east fin. Note that the face of rock at the far end of the bridge can be seen from a greater distance in the previous photo.
 

Phil Lucas starting up the east face of the east fin after crossing the swinging bridge.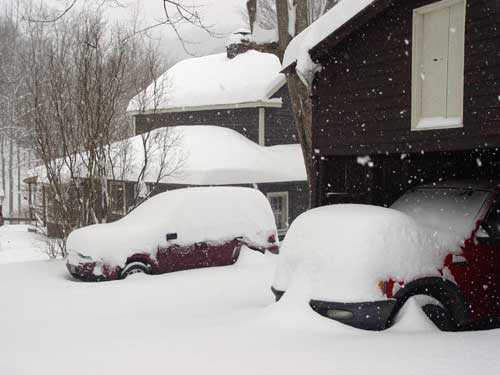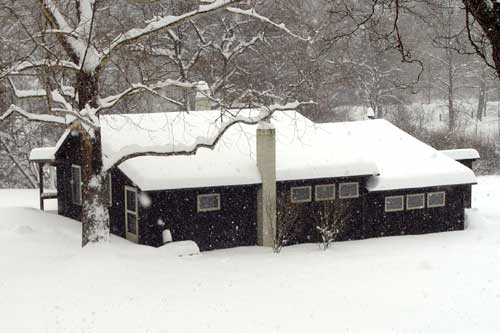 We had quite a mild fall, which made it easy to get the pre-winter chores done. Winter arrived suddenly with 8" of snow on the first Saturday of December, then it was 5°F on Sunday morning, which was quite a shock to the system. We had a brief mild spell before closing out 2009 with The Big Snow. It started snowing mid-afternoon on 18 December and continued through the 19th. The photos above were taken on the morning of the 19th, at which time 21.5" had fallen. This storm totaled 25.8", the greatest for a single event since I've been recording data. It exceeded the Maple Festival blizzard of March 1993 and barely beat out the great snow of January 1996, which was 25.4" here in Mustoe.
Happy New Year to All
* * * * *
John and Char Sweet